Paul Anka Impersonator Tribute Show
Paul Anka is a great star of Las Vegas, and a living legend of early rock n' roll. As one of the original teen idols, Paul was only 16 when his huge hit he sang and also wrote, "Diana," dominated the radio waves in 1957 as Billboard's number one national hit! He cast his own mark on what a teen idol "was all about!"
Our musical impersonation tribute to Paul Anka encompasses his early Billboard chart hot hits as a salute to him and his influences on American teens' prom night. Prom night is the event where his songs of young love gave high school sweethearts around the world a real romantic reason to "slow dance" compared to the jump and jiggle tunes of harder driven rock n roll. Our performance also pays tribute to his treasury of top hits throughout his career, including the many top hits he wrote for other superstars, too!



Performing those great prom songs and pop 50's-60's-70's favorites, our "Paul Anka" comes dressed out in his sharp white prom tux with red carnation, or for non-prom themes, in his cool and suave sharkskin suit!
In the live and electrifying singing, "Paul" adds that soulfully raw, yet refined emotion, into the live impressionist vocals through a classic styled Shure professional "55" microphone on vintage chrome stand...All very authentic in looks, feel and sound, as vocals are mixed with very accurate backing tracks to effect a band in accompany.
Special Las Vegas-themed parties and "Prom Nights" for
baby boomer events coast to coast!
Christmas and New Year's Eve are booking
nice and early, too, lots of choice dates still available!
"Paul Anka - Prom King" TM video demo, an appearance at the world famous

"Seacrets" of Ocean City, MD, one of the largest nightclubs in the USA at this link:
http://www.youtube.com/playlist?list=PLfgTVtGCxkTm3yhFSea11MhOPn5ZyqPBf&feature=edit_ok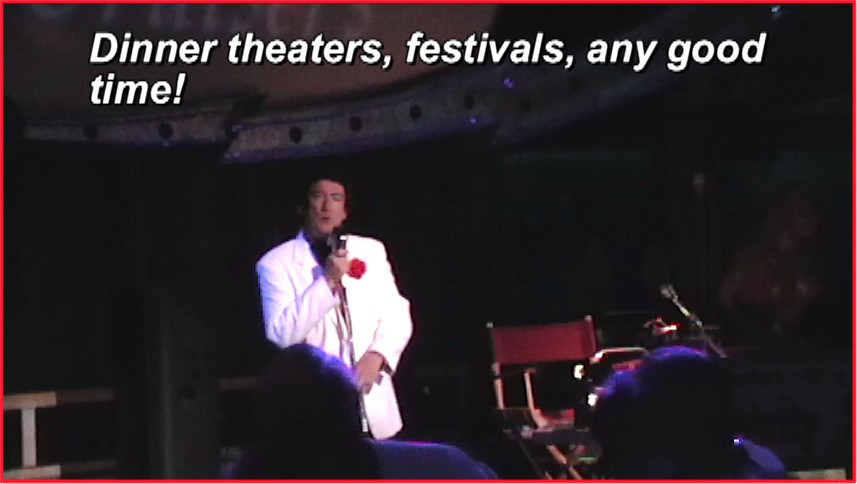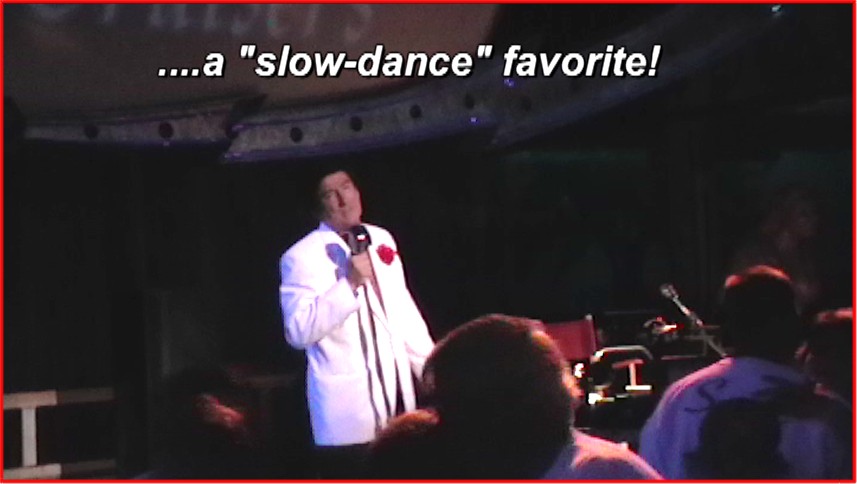 "Paul Anka - Prom King Tribute" signature songs include:

"Diana"

"Lonely Boy"

"Puppy Love"

"Put Your Head On My Shoulder"

"You Are My Destiny"


"Hello Young Lovers"


"Times Of Your Life"


"Having My Baby"


"She's A Lady"


"My Way"
......and more great standards!

There are two types of performance offered. First is the "big show" as a concert-style performance, the other is for smaller, more intimate surprise parties like birthdays, anniversaries, promotions, retirements and other celebrations. We'll outline these for you and the equipment we use.
The professional sound equipment needed for a great show in a smaller or medium-sized venue to entertain 50-350 guests is very basic, of about 1500 watts, and can be provided in a drivable range which is normally about a 350 mile-radius from home base of Virginia Beach, VA. We also have professional theater lighting and even special effects lighting to give a very sophisitcated look to the show. All equipment is top brand, and attractive in appearance with a "Las Vegas" / "Branson" motif. As this is a one-man show the performance is conveniently compact in stage area needs, so works well either on full-stage or minimum of 8' X 10' area, but very high in visibility and feel!
For national - international performances flying in for the engagement, for an intimate party of up to 50 guests, we will bring a portable professional sound system that is checked as baggage, for quick and easily mobility as for "surprise parties " in a walk-in and perform sense, and works great for those.

For a larger audience, such as 50 -350 guests as in a hotel ballroom or banquet hall, we suggest the Audio / Video dept at hotels and resorts venues provide the sound set-up for the show, or have a sound re-enforcement sub contractor or DJ company do this, with the types of equipment outlined.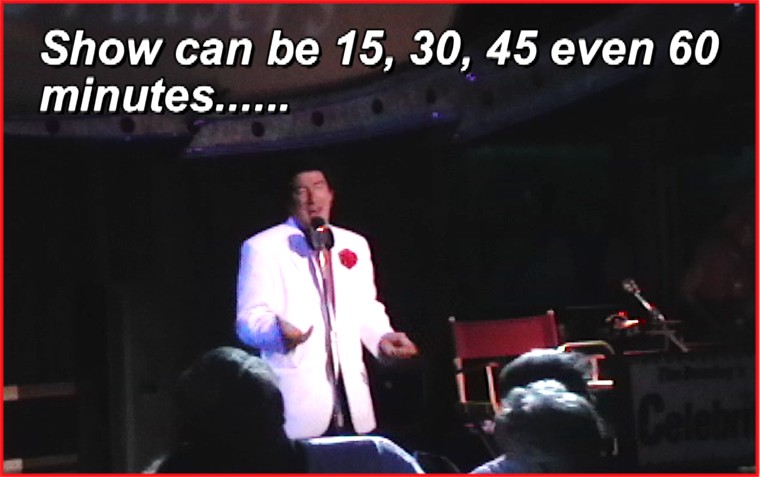 Be sure to also watch the "Paul Anka" demo video on the multimedia videos tab!
EMAIL: timobeasleystar@aol.com
Phone 757-589-0903 Please call, we love to talk, and you can text!
Licensed And Insured Since 1986
Paul Anka, impersonator, tribute, impressionist, entertainer, singer, look alike, sound alike, Las Vegas, LA, Hollywood, Palm Springs, Miami, New York City, Canada, Chicago, Houston, Phoenix, Atlantic City, Frank Sinatra, Dean Martin, Tony Bennett. Andy Williams, Tom Jones, My Way, She's A Lady, teen idol, Dick Clark, American Bandstand, Diana, I'm Just A Lonely Boy, Puppy Love, Put Your Head On My Shoulder.