Frank Sinatra Impersonator Tribute Show
Perfect Entertainment for when you want to "groove to the smooth!"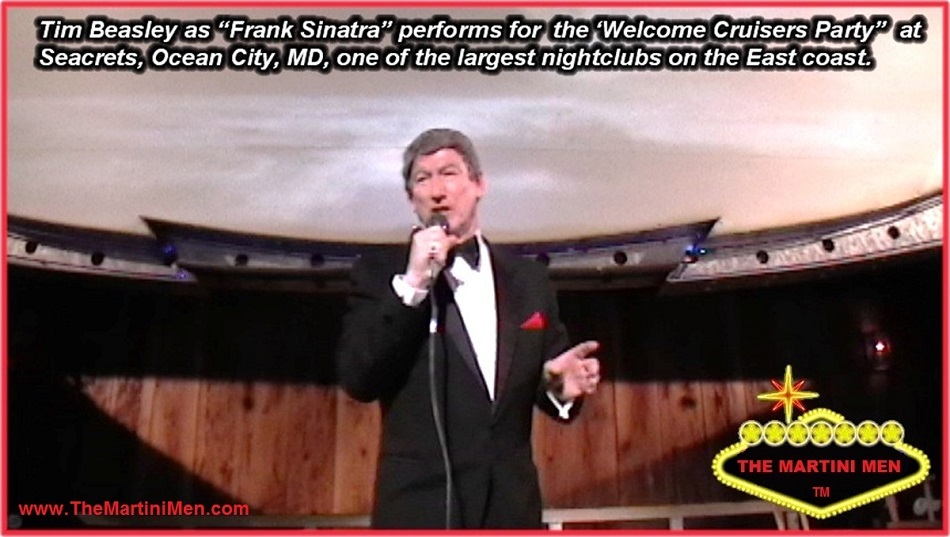 Update 12/14/16 and 12/17/16: Performances for Perdue Farms at Greenhill CC Salisbury, MD 12/14, and for MSA corp at Sabatino's Little Italy, Baltimore, MD 12/17/16.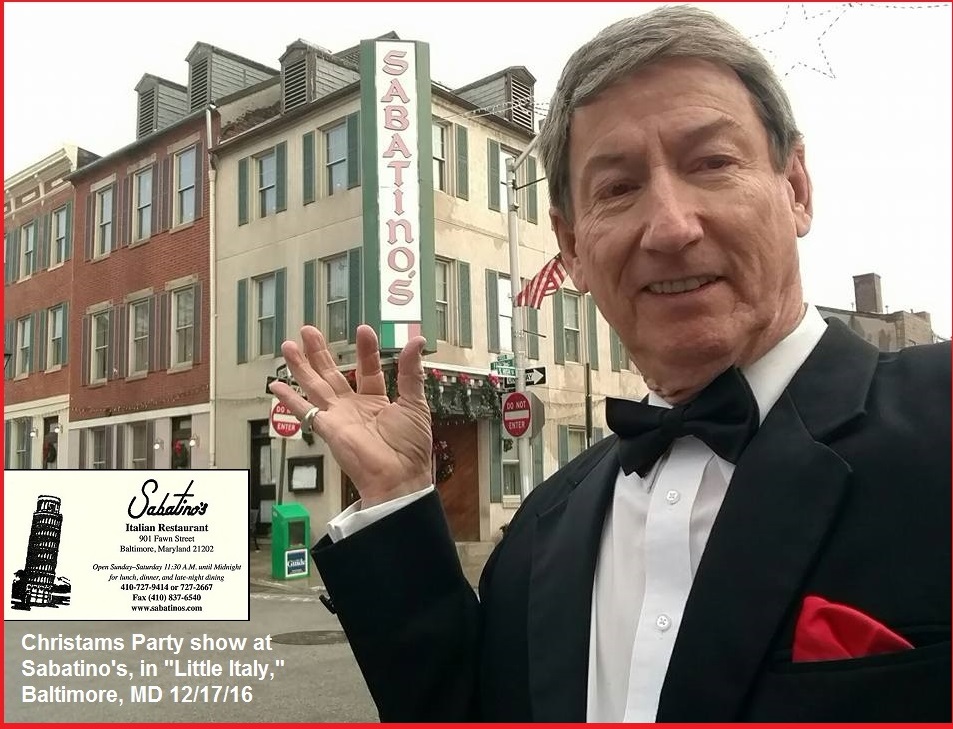 Update, 11/18/16: Frank Sinatra performance for the US Navy USS Gerald Ford aircraft carrier "Great Gatsby" themed ship's party...over 1,000 sailors, airmen and their guests at the Hampton Roads Convention Center!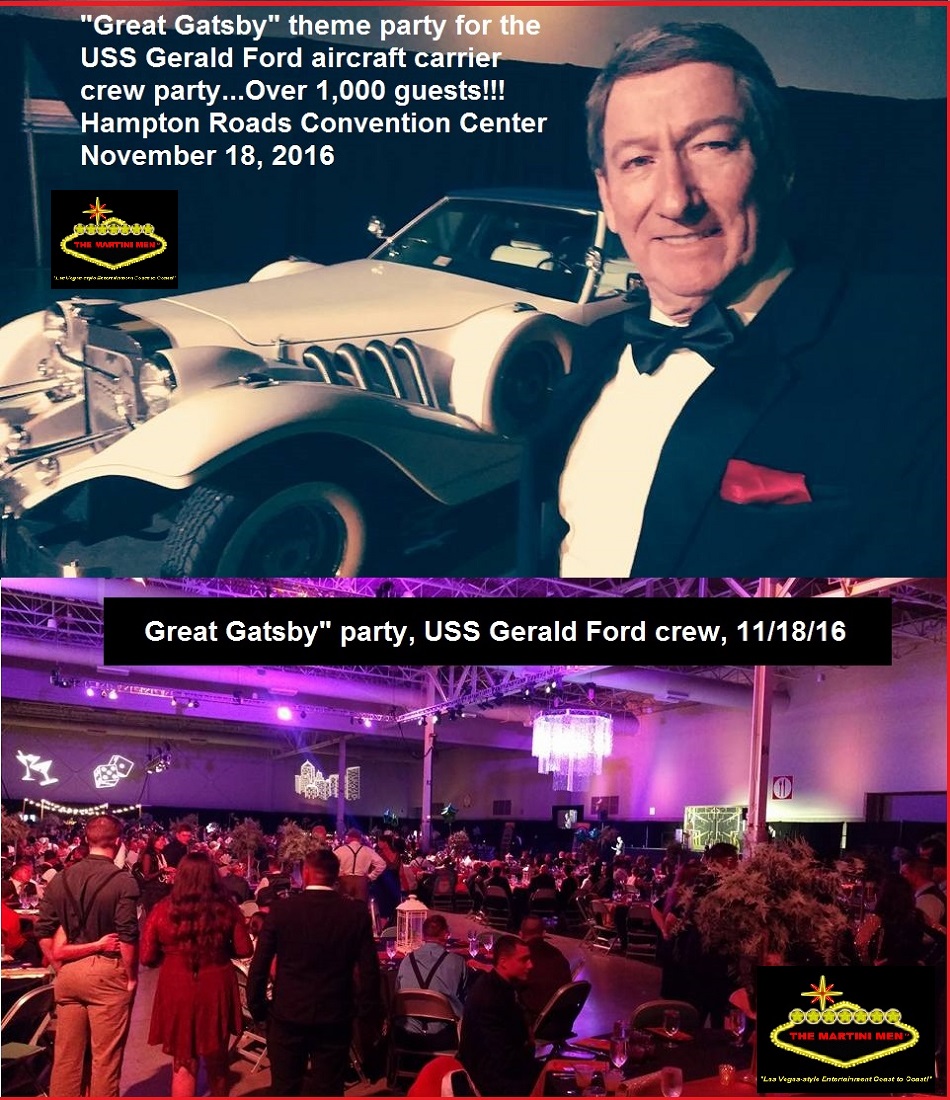 Update,10/6/16: "The Martini Men Frank Sinatra, Rod Stewart and Neil Diamond" had a great time entertaining for the "Gelita Late Show" at the huge Supply Side West trade show in the Mandalay Bay Convention Center, Las Vegas, NV. Ready to add some Las Vegas-style glamour to your event, nationally!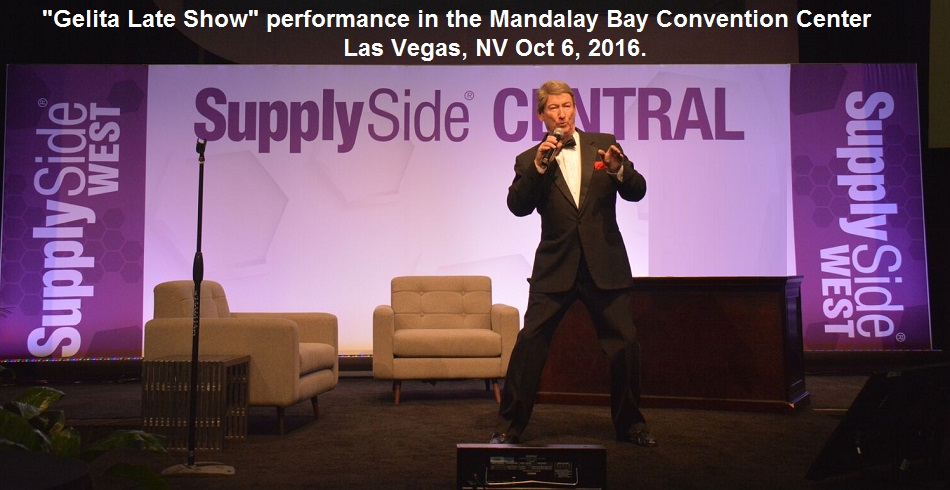 Frank Sinatra is probably the most famous and popular singer in history, and brought a totally new dimension to live performances. As a Las Vegas legend, he definitely helped "put it on the map!" His reign at the top casinos and resorts in the 50's, 60's, 70's, 80's and even into the 90's brought out all of the entertainment royalty to join him in this Superstar spotlight power!
Our "Frank Sinatra" tribute swings with all of those great hits you love and remember! Either as a superstar solo performance of from 15 minutes to one or two hours, or grouped together with any number of the other "Martini Men," Dean Martin, Bobby Darin, Tony Bennett, Andy Williams or Paul Anka or even all together in a one-man show spectacular, it makes a grand evening of "Martinis & Memories!"

Vegas themed party events are very popular, and Christmas Holidays and New Year's Eve Shows booking nice and early for 2017. There's lots of choice dates still open! See much more on this below!
SEE SONG LIST BELOW PHOTOS
ALSO SEE VIDEOS OF THESE LIVE SHOWS ON YOUTUBE LINK, MID-WAY DOWN ON THIS PRESENTATION: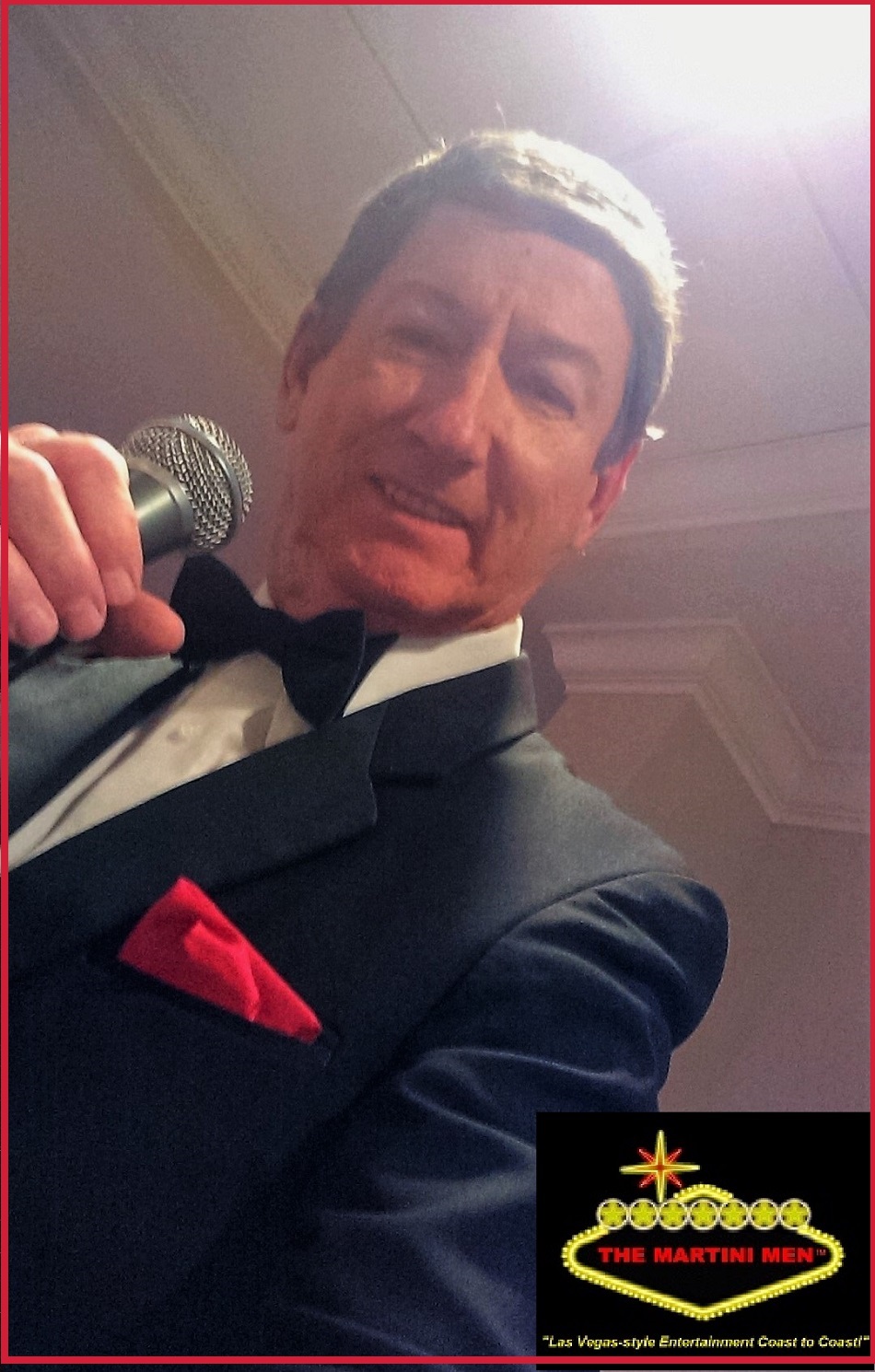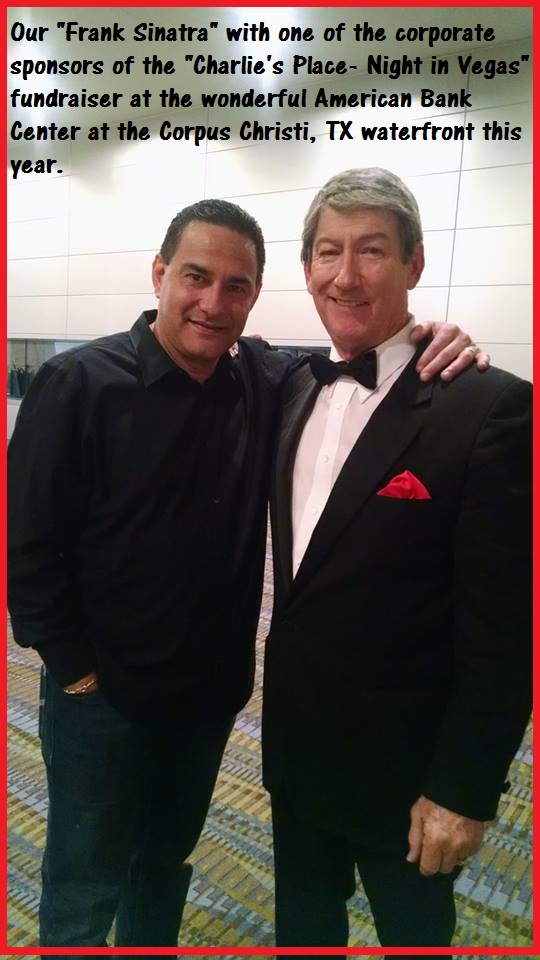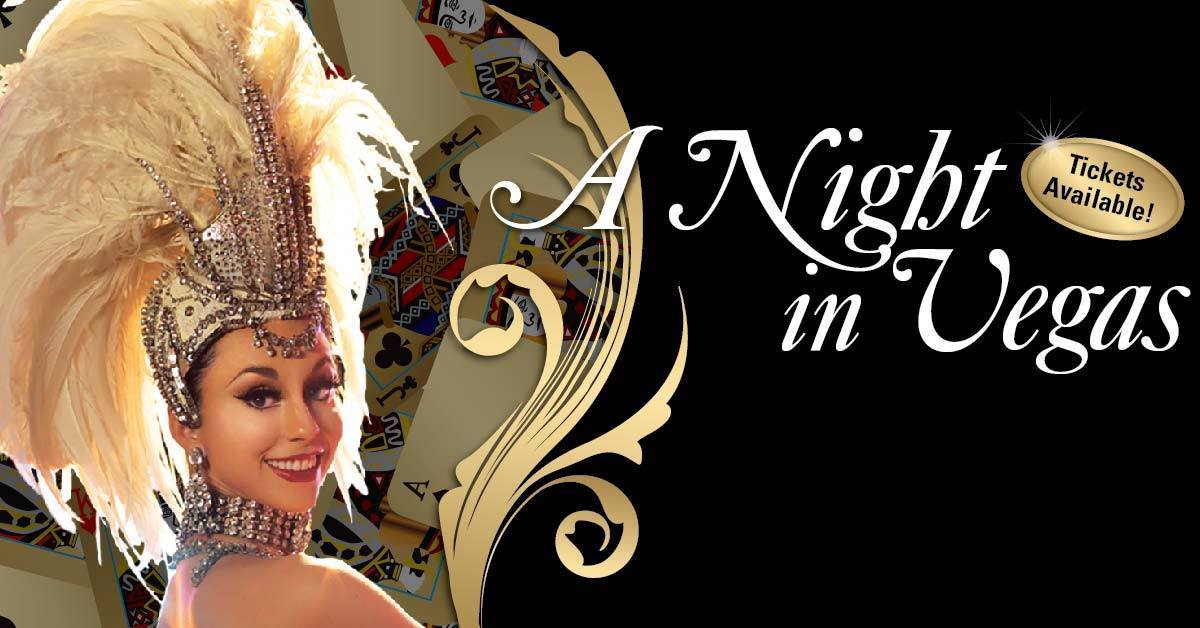 Show is performed with Tim Beasley singing his live vocals in impression of Frank's voice and range, and a visual impersonation in Frank's stage presence, similar build, hair and facial features accented, and sharp suited appearance of classic tux or sharkskin suit.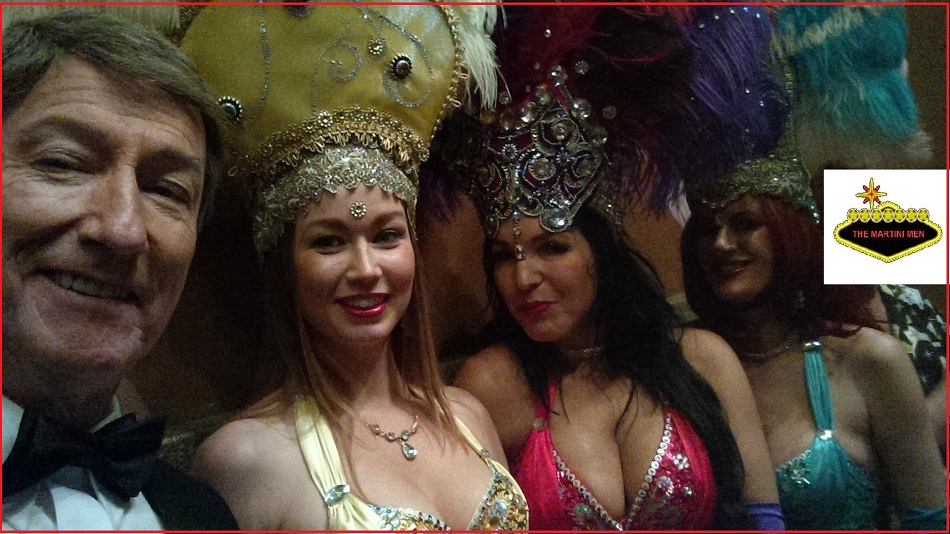 The live vocals are mixed with pre-recorded "backing tracks" from a CD, flashdrive or similar media to effect the sounds of a full orchestra, and reproduce the legendary live shows Frank Sinatra was known and loved for.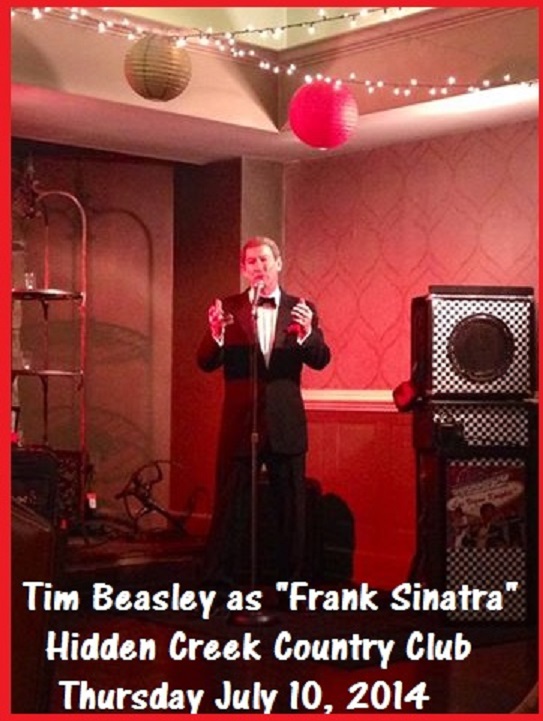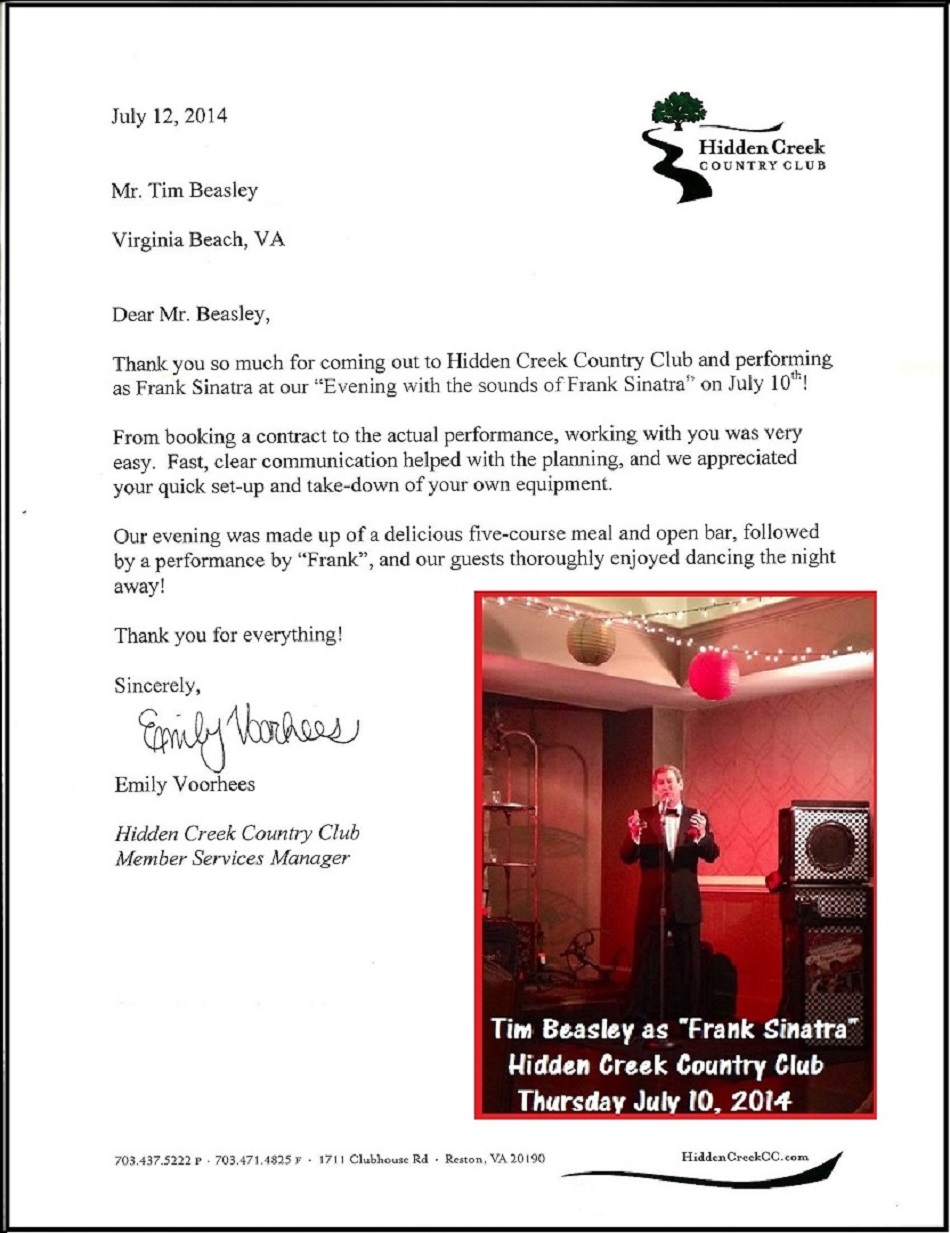 There are two types of performance offered. The "big show" is a concert-style performance in a theater or on a ballroom stage, and the other is for smaller, more intimate parties like birthdays, anniversaries, receptions and socials, promotions, retirements and other celebrations. We'll outline these for you and the equipment we use.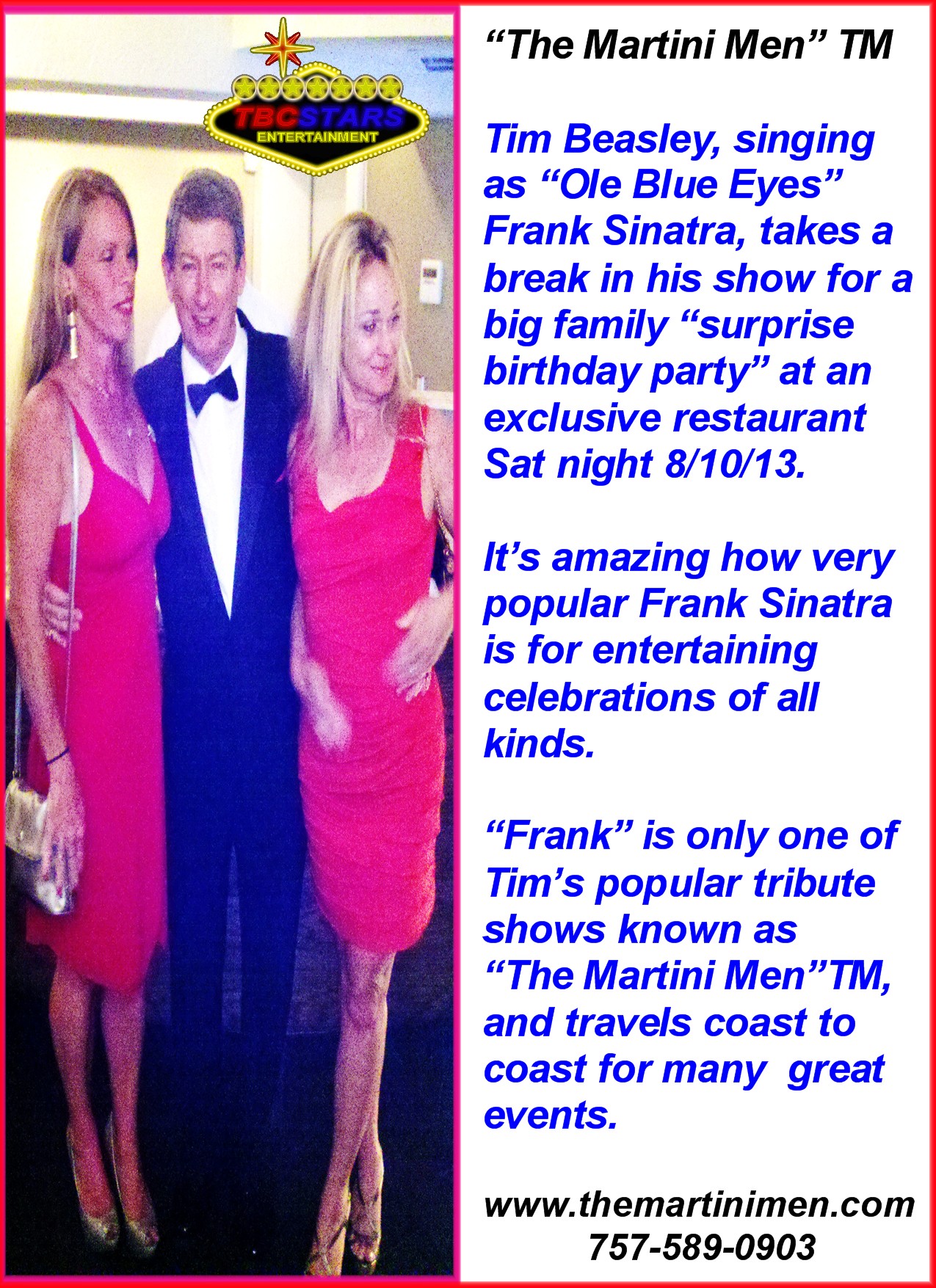 Big Birthdays are extra grand with "Ole Blue Eyes"
singing a tribute and a "Salute' to their lives in song!!!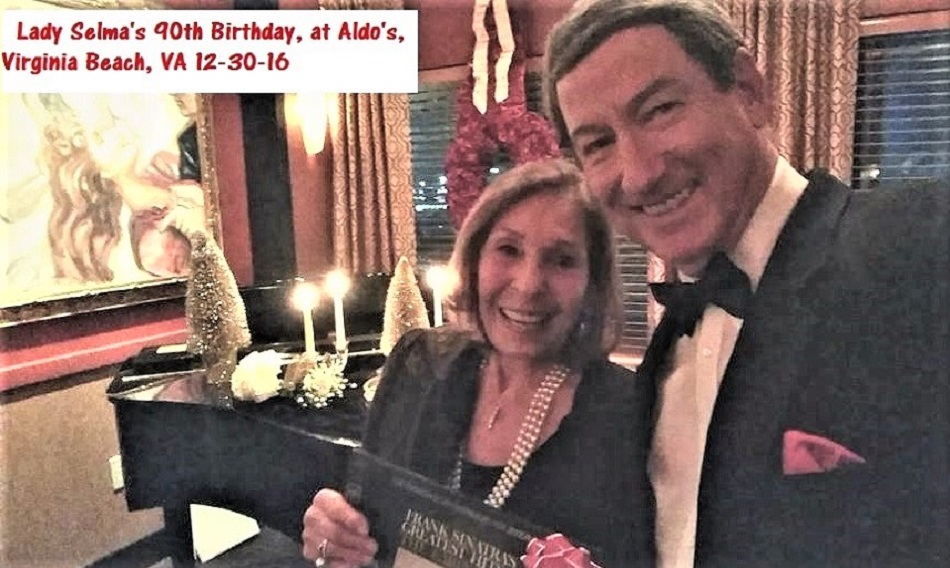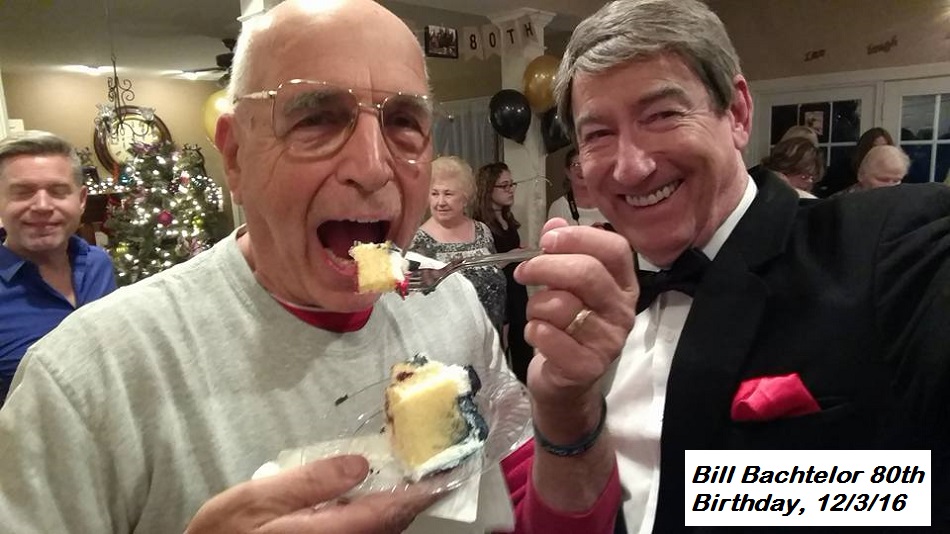 Birthday Party Shows for your "Silver Seniors"
and for all ages that love those great Sinatra tunes!!!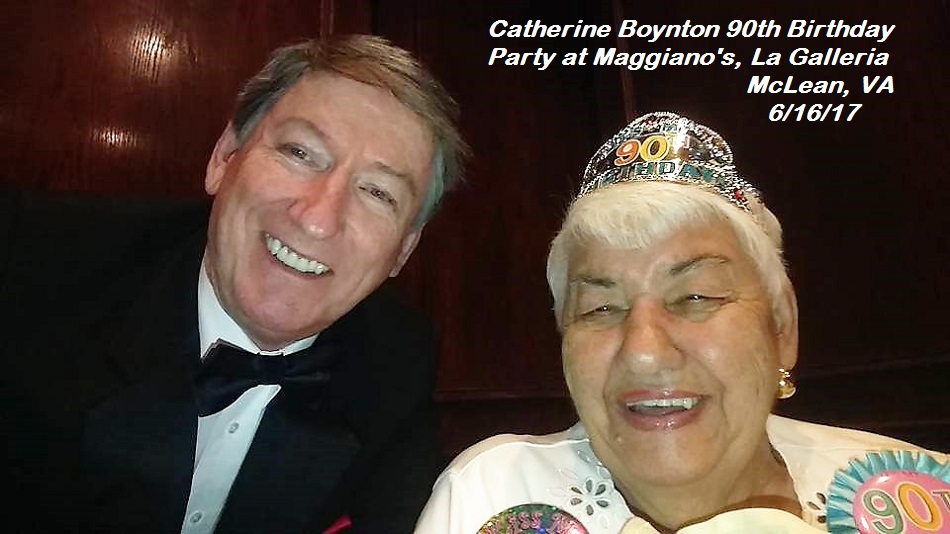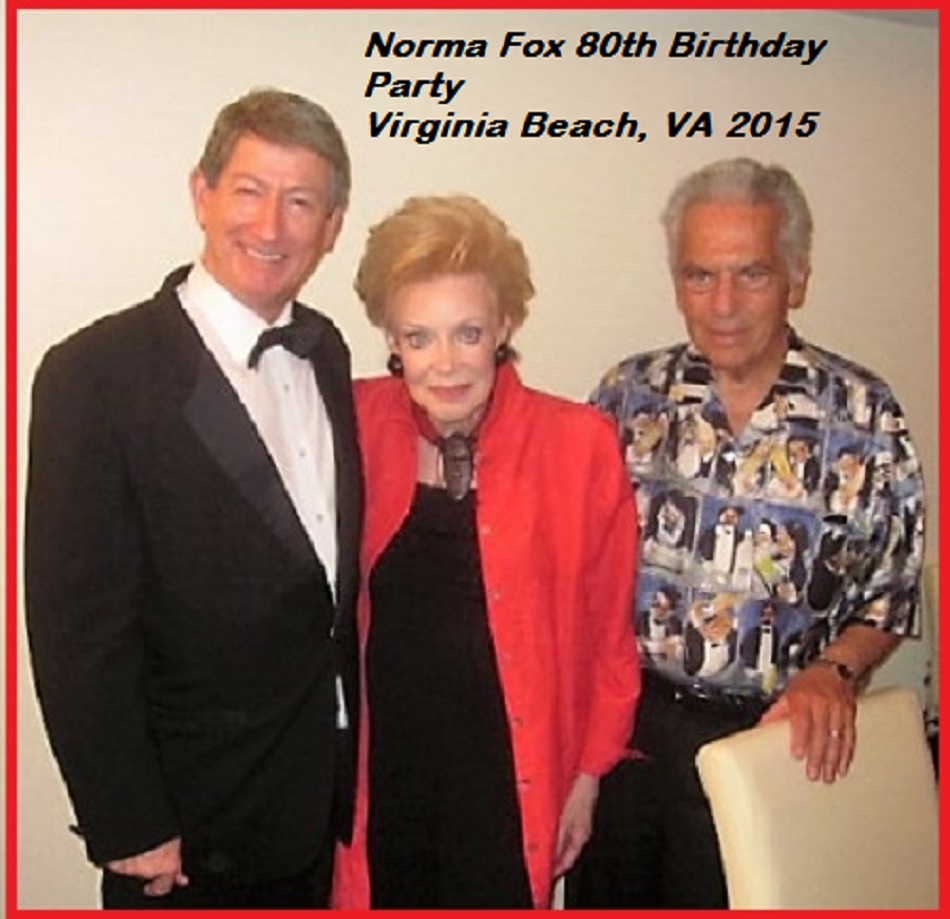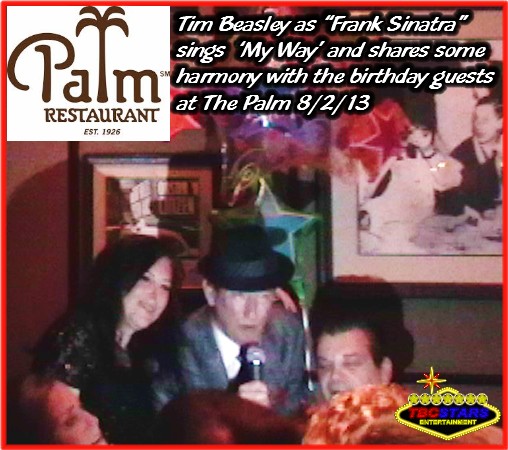 The professional sound equipment needed for a great show in a smaller or medium-sized venue to entertain 50-350 guests is very basic, of about 1500 watts, and can be provided. We also have theater and special effects lighting to give a very sophisticated look to the show. Being a one-man show, the performance is conveniently compact in stage area needs, so works well either on full stage or minimum of 8' X 10' but very high in visibility and feel.
For national - international performances flying in for the engagement, for an intimate party of up to 50 guests, we will bring a portable professional sound system that is checked as baggage, with easy mobility as for "surprise parties " in a walk-in and perform sense, and works great for those.

Flying in for those larger audiences, such as 50 -350 guests as in a hotel ballroom or banquet hall, we suggest the Audio / Video dept at hotels and resorts venues provide the sound set-up for the show, or have a sound re-enforcement sub contractor or DJ company do this, with the types of equipment outlined.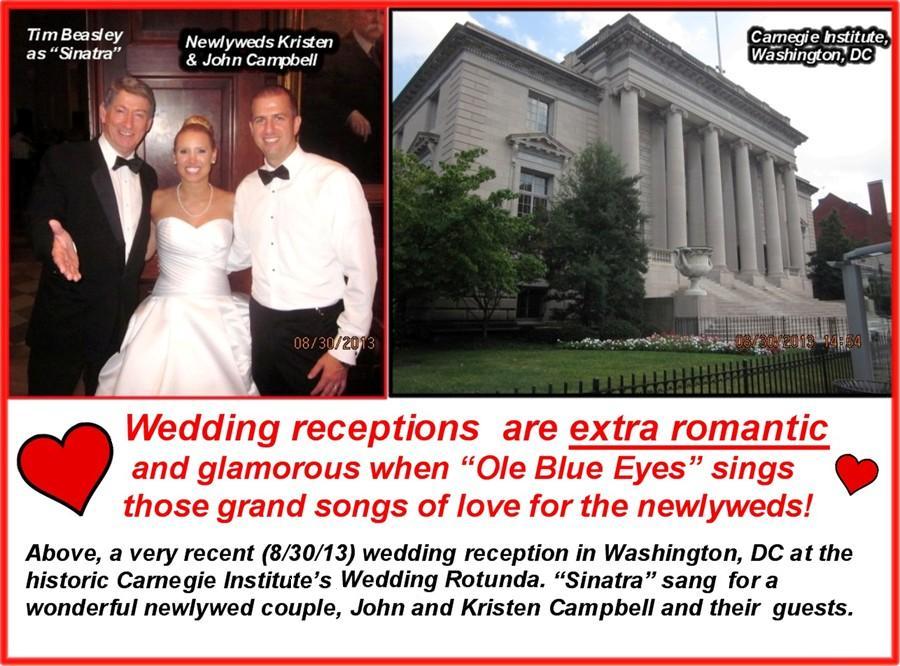 Songs Performed, Sinatra's Top Requested Hits!!!:

"You Make Me Feel So Young"

"I've Got You Under My Skin"

"It Was A Very Good Year"

"Saying Something Stupid"

"Strangers In The Night"

"Luck Be A lady Tonight"

"Love and Marriage"

"Girl From Ipanema"

"Come Fly With Me"

"Lady Is A Tramp"

"Too Marvelous"

"Summer Wind"

"Witchcraft"

"That's Life"

"My Way"

"All Of Me"

"Something"


"All The Way"


"I Love Paris"

"Night And Day"

"Beyond The Sea"


"Time After Time"

"It Had To Be You"

"Fly Me To The Moon"

"Moonlight Serenade"

"That Old Black Magic"

"New York, New York"


"Call Me Irresponsible"


"The Anniversary Song"


"Chicago - My Kind of Town"

"The Way You Look Tonight"

"Chicago-That Toddlin' Town"

"I've Got The World On A String"

"One For My Baby (And One More For The Road)"


...and many more!
"Frank Sinatra" video of performance in Ocean City, MD
http://www.youtube.com/playlist?list=PLfgTVtGCxkTnswn3_A4ct_Q6DwvR2Sz3d&feature=view_all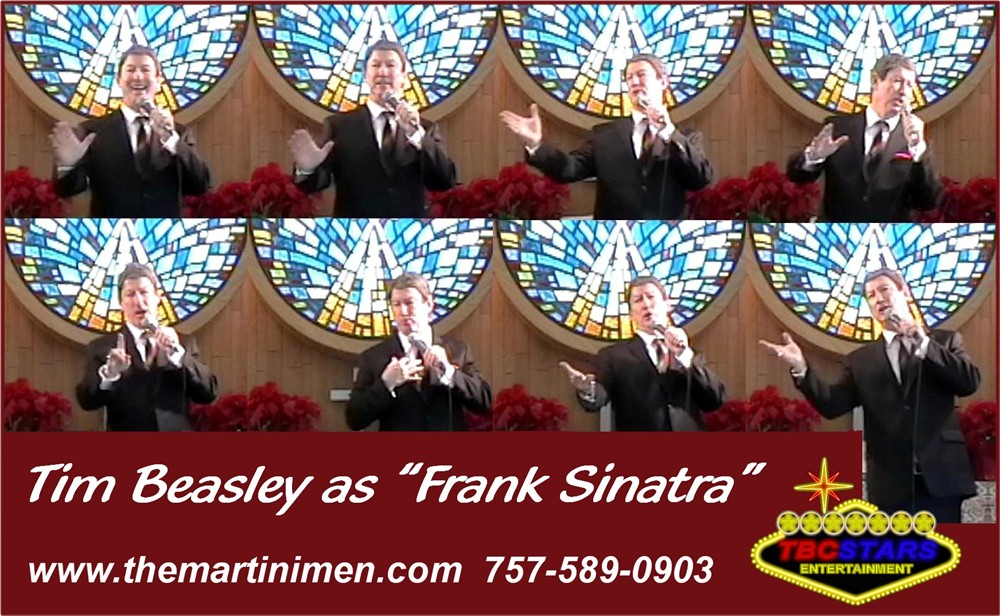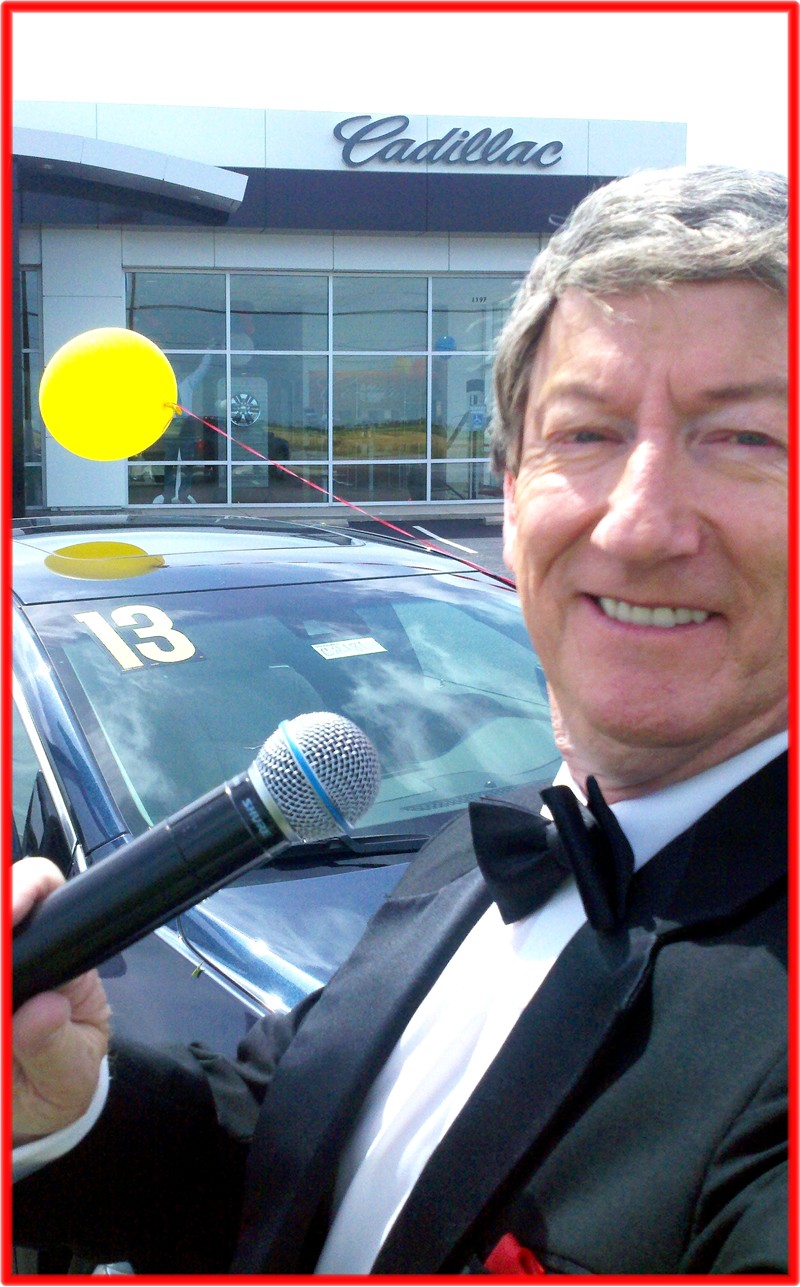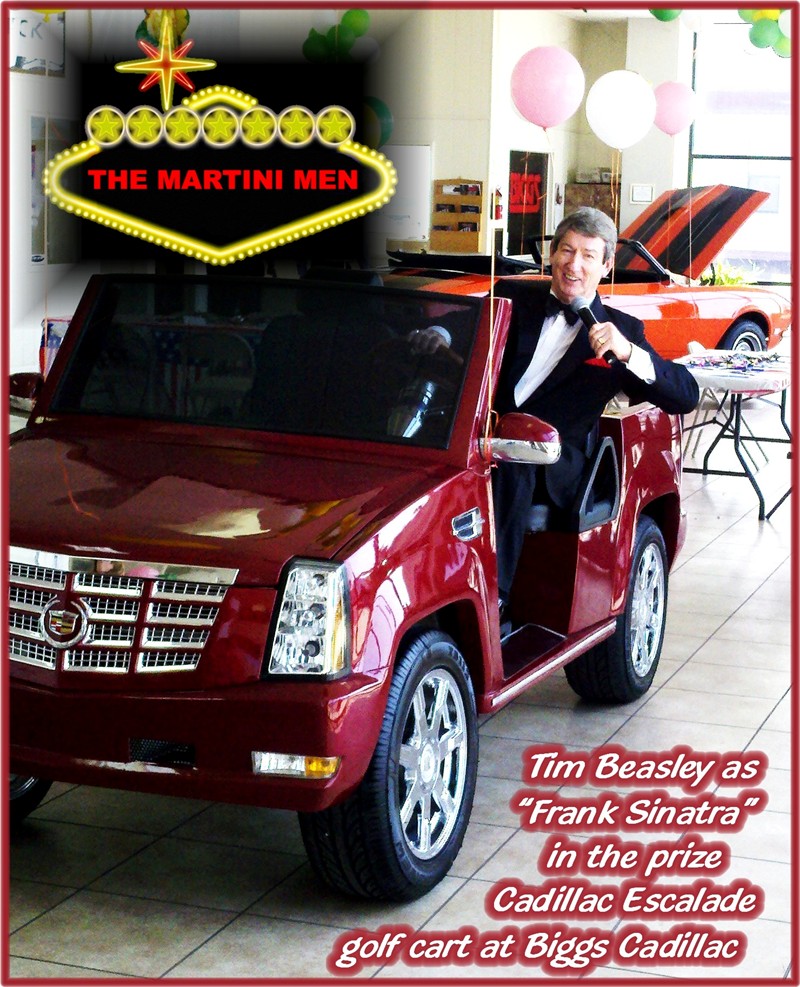 "Frank" also has his very own "Cadillac Rat Pack" TM show for Cadillac dealerships!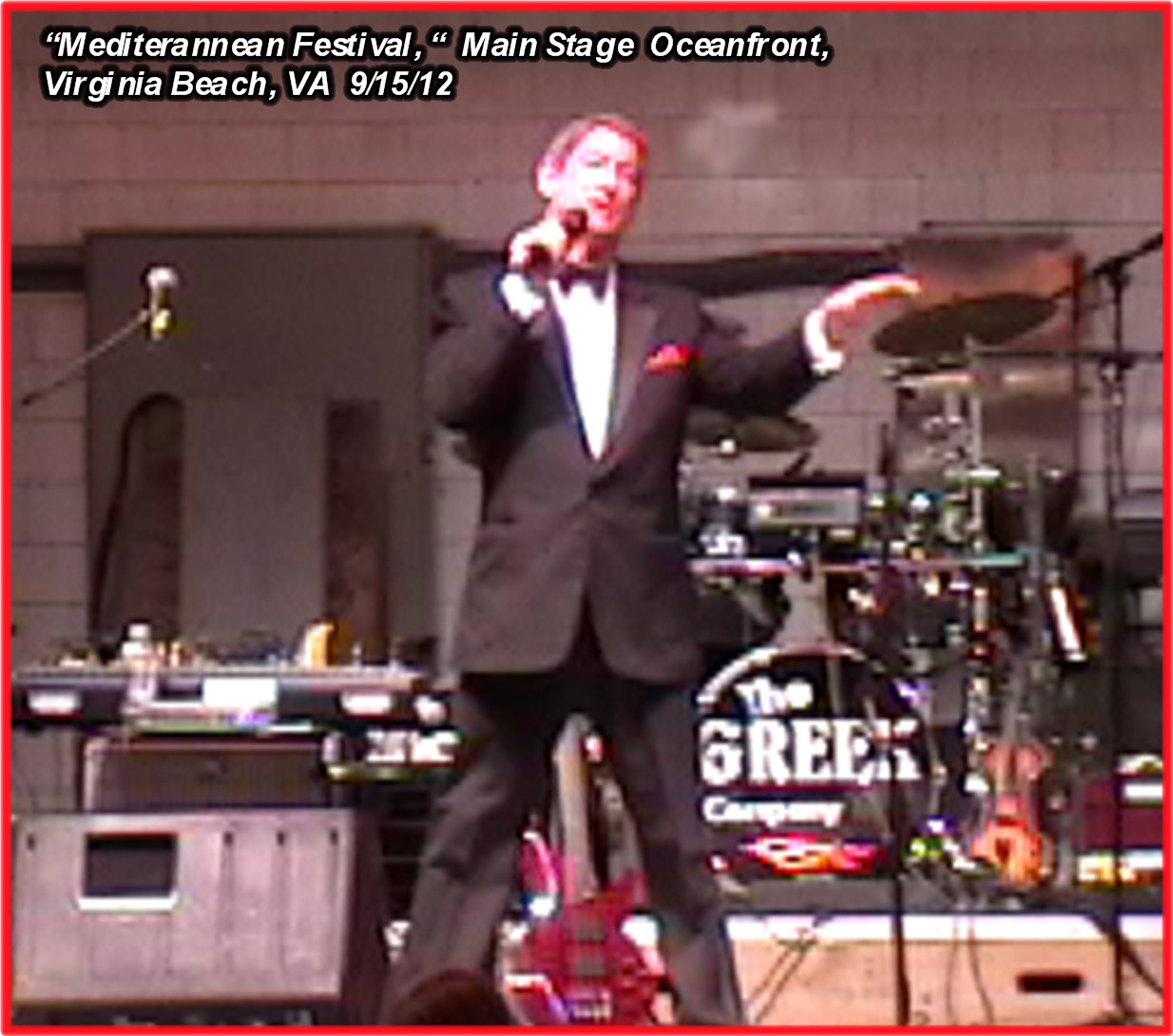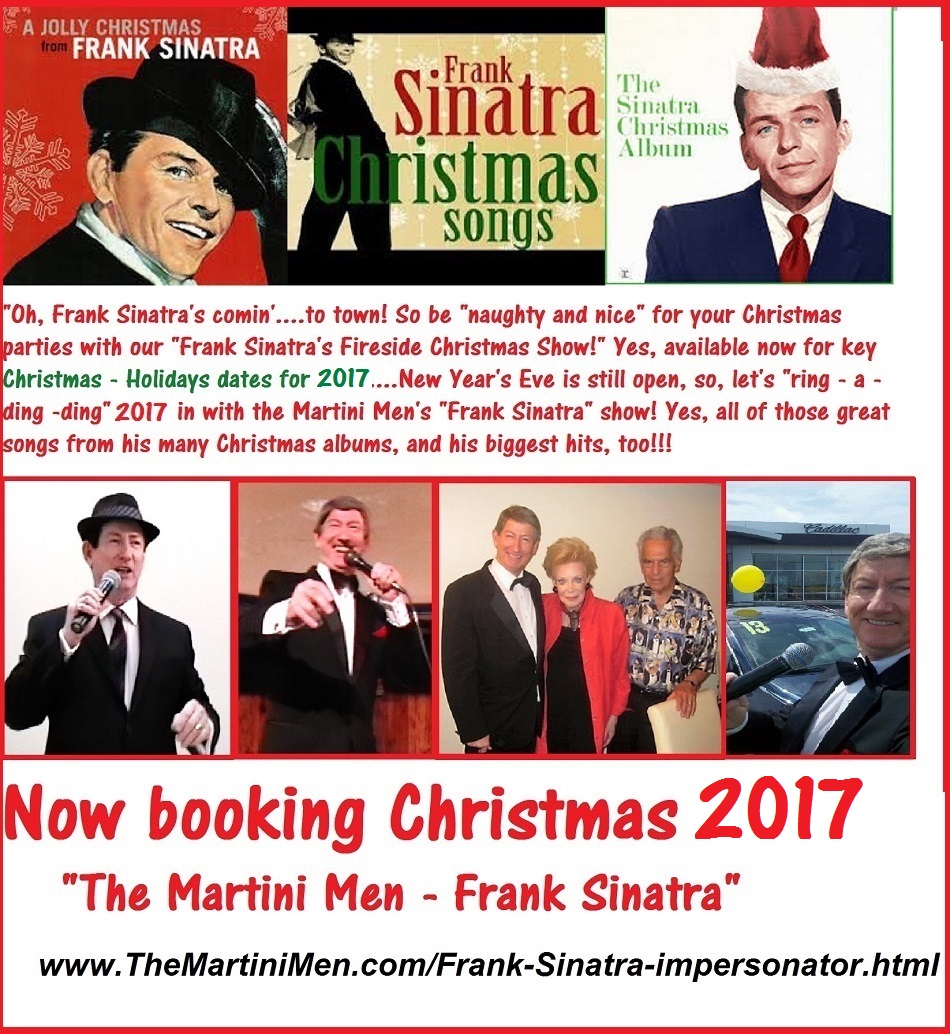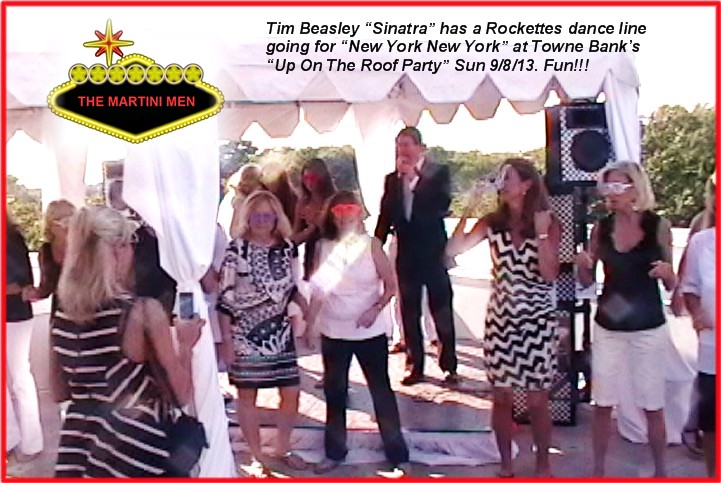 Above is a recent performance for Towne Bank that had both "Dean Martin" and "Frank Sinatra" perform at their "Up On The Roof" party overlooking the oceanfront from the 5th floor deck. This was a fund raiser event for Physicians For Peace, an international medical foundation. Great party, great people, great cause!
Be sure to consider the extra "attendance power" The Martini Men can generate for your fund raisers, galas and other special events.

Be sure to see the videos on the "Multimedia" tab, too!

e-mail: timobeasleystar@aol.com

Please call, we love to talk, and you can text, too!.
757-589-0903

Licensed and Insured since 1986
Frank Sinatra, impersonator, tribute, impressionist, singer, entertainer, look alike, sound alike, mimic, New York City, Miami, Las Vegas, Lake Tahoe, LA, Palm Springs, Hoboken, Chicago, Atlanta, Dallas, Atlantic City, conventions, theaters, casinos, cruises, country clubs, festivals, Italian, glamor, Hollywood, Oscar, Academy Awards, Rat Pack, Dean Martin, Sammy Davis Jr., Tony Bennett, Andy Williams, Bobby Darin, Paul Anka, My Way, Fly Me To The Moon, It Was A Very Good Year, I've Got You Under My Skin, Lady Is A Tramp, jet set, martini, Paris, London, Riviera, Sands, Star Dust, Caesars Palace.