Andy Williams Impersonator Tribute Show.
Andy Williams will always be one of America's and the world's greatest entertainers. Tim Beasley, a variety musical celebrity impersonator for over 30+ years in his popular "The Martini Men" TM productions is proud to include his unique tribute performances as "Andy Williams." His full concert show is known professionally as "Andy Williams - Mr. Moon River" TM in a complete celebrity impersonation and vocal impression for grand events coast to coast...internationally. too!
( See the great "Academy Awards Party 2021" performance offering further down! )
In addition to being a top recording and live performances superstar, Andy Williams was also a very important and prominent member of "Las Vegas royalty." In the early 1960's he regularly performed throughout Las Vegas and in 1966 he headlined at the grand opening of Las Vegas' iconic Caesars Palace Casino & Nightclub with the stage production of "Rome Swings," to a sold-out crowd in the Circus Maximus showroom. He also headlined there at Caesars for the next 20 years, ** (also see historic Caesars grand opening on video, below)
As a life-long fan of Andy's great music and TV shows, I regrettably never got to meet or see him perform in person. I was in Branson on show business back in Feb of 2004, and while there had hopes of finally meeting him. Unfortunately it was not to be as his famous Moon River Theatre was closed for the winter season. Sept 25, 2012 we all lost a great and grand gentleman in his passing. 9/25/13, on the first anniversary of his passing, I performed a tribute memorial concert to him at a Cadillac- Buick- GMC dealership, as Andy had a great relationship with Buick sponsored his famous annual "Andy Williams San Diego Open Golf Tournament." Peace and love to Andy's family and his many millions of fans. Tim Beasley.
National "active lifestyles" golf-country club community builders, and home owners associations, such as the famous "Villages" of Central Florida, also Del Webb Homes, Toll Brother Homes, Lennar Homes and Shea Homes regularly feature Tim's "Martini Men TM" tributes for their properties' promotions and PR.
Auto dealerships, banks, insurance companies, estate planners, shopping centers and other businesses love to "sponsor" our 'Andy Williams' shows and are often the "presenters" for those programs in public venues such as festivals, community stages, theaters and amphitheaters. They will have their businesses highlighted in the media that herald the shows and also in the actual printed programs...Call and we'll explain how well this works. This is especially great and golden PR for companies who want to get closer to their customers!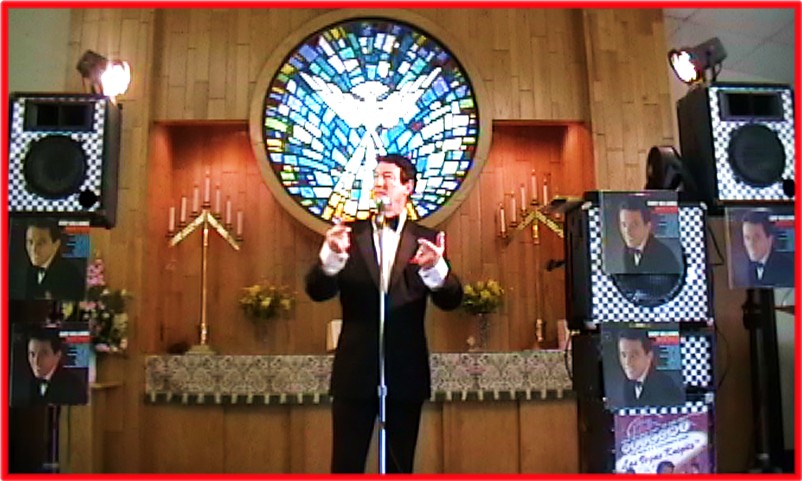 ANDY WILLIAMS TRIBUTE SINGS THE ACADEMY AWARD WINNING SONGS!
For movie fans of the glamorous 60's, 70's and 80's Oscar winning films, all will remember the fantastic "Best Songs" that Andy Williams performed so magnificently! Of course "Moon River" tops the list, and Andy continued his success making major hits of the other grand Academy Awards songs such as "Days Of Wine And Roses," "A Summer Place," "Dear Heart," "Love Is A Many Splendored Thing," "Born Free," "Love Story, Exodus," "Dr. Zhivalgo 'Lora's Theme," "The Godfather Theme" and many more… In fact, no other singer-recording artist made more hits out of the songs from the movies than Andy Williams! Even his best ever- selling album was "Andy Williams Moon River & Other Great Movie Themes."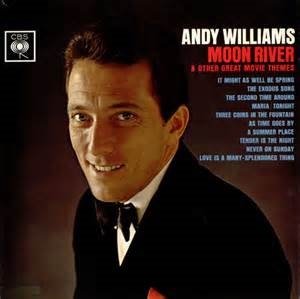 National Andy Williams tribute performer Tim Beasley has been bringing his unique sound alike and incredible look alike performances as "Andy' to many glamorous events with his show "Andy Williams Sings The Movie Hits" coast to coast for over 34 years.
This performance is a most wonderful addition to any "Academy Awards Red Carpet" party or social and also for any high class event 'year round. Your guests will be very impressed!!!
Songs Performed:

"Breakfast At Tiffany's" Theme - "Moon River"
"Days Of Wine And Roses" - Title Song
"Exodus" - Title Song
"A Summer Place" - Title Song
"Alfie" - Title Song
"Casablanca" Theme "As Time Goes By"
"Charade" - Title Song
"Love Is A Many Splendored Thing" - Title Song
"Dear Heart" - Title Song
"Born Free" - Title Song
"Godfather" Theme - "Speak Softly, Love"
"Dr. Zhivalgo" Theme - "Lora My Love"
"Never On Sunday" - Title Song
""Three Coins In The Fountain" - Title Song
"Butch Cassidy and the Sundance Kid" Theme - "Raindrops Keep Falling On My Head"
"Westside Story Theme - 'Tonight, Tonight" & "Maria"
"Romeo & Juliet Theme - "A Time For Us"
"Love Story" Theme - "Where Do I Begin?"
"Mondo Cane" Theme - "More"
"Blue Hawaii" - Title Song
"The Second Time Around" from "High Time"
"Tender Is The Night" Title Song
"It Might As Well Be Spring" from "State Fair"
"I Love Paris" from "Can-Can"
...and more, including these great Andy standards!!!
"Cant' Get Used To Losing You"
"Red Roses For A Blue Lady"
"Canadian Sunset"
"Music To Watch Girls By"
" Twilight Time"
"Some Enchanted Evening"
"Love Letters In Sand"
"My Happiness"
"Michelle"
"Danny Boy"
"The Impossible Dream"
"Emily"
"The Hawaiian Wedding Song"
"We've Only Just Begun"
"Can't Take My Eyes Off Of You"
We always get an "Oh yeah, Andy!!!" response when clients see our exciting tribute to him is very popular and available on request in the USA, Canada, the Caribbean, Bermuda, Australia, the UK and Europe. Andy's super-string of hits from adult contemporary, top of the pop charts and impressive collection of award winning "movie songs" made him an entertainment legend, with many millions of fans. So...just consider how grand it would be to have "Andy" in tribute for your glamorous gatherings, sophisticated soirees, all manner of celebrations and even 'Hollywood" theme parties (see our different occasions - event offerings furher down)!



This view of Tim and Andy shows why Tim lights up any stage in Andy's image and aura!
Always cool, casual and smooth like cashmere, he's a classic superstar! "Andy" performances are so fine with great events like wine dinners, all manner of high society events and socials, weddings (see photos of wedding at Moon River Ranch near Dallas, TX below) anniversaries and other grand celebrations. His soothing and soulful delivery of songs made all that he performed instant classics.
Tim Beasley, a life-long fan of Andy, his music and grand TV shows always admired the amiable ease and rapport Andy held with any audience, and the velvety way he breathed life into each of his song performances. With years of listening, practicing, rehearsing and emulating Andy's unique ways of "phrasing," feel, tone and vocal likeness in his songs, Tim brings his mastering of the "Andy" way to every show.
(Above is a "still frame" taken from video of Tim's recent live show, in performance tribute of 1967's very hip hit, "Music To Watch Girls By." See this video on our "Andy Williams Video Collection" below.)

Show is performed with Tim Beasley singing his own live vocals, ala impression of Andy's voice and range, and a highly detailed and accurate visual impersonation in Andy's physical stage presense of similar build, with hair and facial features accented. Whether wearing a sharp tuxedo, leisurely sports coat, or even iconic red holidays sweater appearance, Tim has a remarkable physical likeness and manner to Andy, as I'm sure you'll see in the photos - videos on this site. The live vocals are mixed with pre-recorded "backing tracks" from a CD, flash drive or similar media to effect the sounds of a full orchestra, OR your good band, orchestra that knows the charts for Andy's biggest hits, to reproduce the legendary live shows Andy Williams was known and loved for. Tim can perform as the younger "1950's -1970's "TV Andy," as pictured above, or in his 1980's - 1990's "Branson Years" silvery senior superstar role, as shown below in a show for an exclusive retirement community.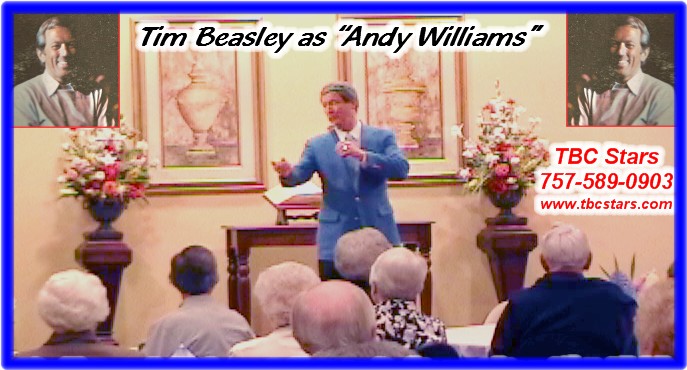 Two types of performance are offered. The "big show" is a concert-style theater stage or ballroom performance. The other is for smaller, more intimate performances such as corporate receptions, socials, client schmoozes and parties like birthdays, anniversaries, promotions, retirements and other celebrations.

For every performance, we bring a classic Andy Williams LP to give as a special present, autographed in gold, to the birthday person or happy anniversary, wedding and other celebration folks!
The sound equipment needed for a great show in a medium-sized venue to entertain 50 - 350 guests is basic, of about 1500 watts, and can be provided. We also offer theater and special effects lighting to give a very sophisticated look to the show. As a one-man show the performance is conveniently compact, so works well either on full-stage or minimum of 8' X 10' area, but very high in visibility and feel!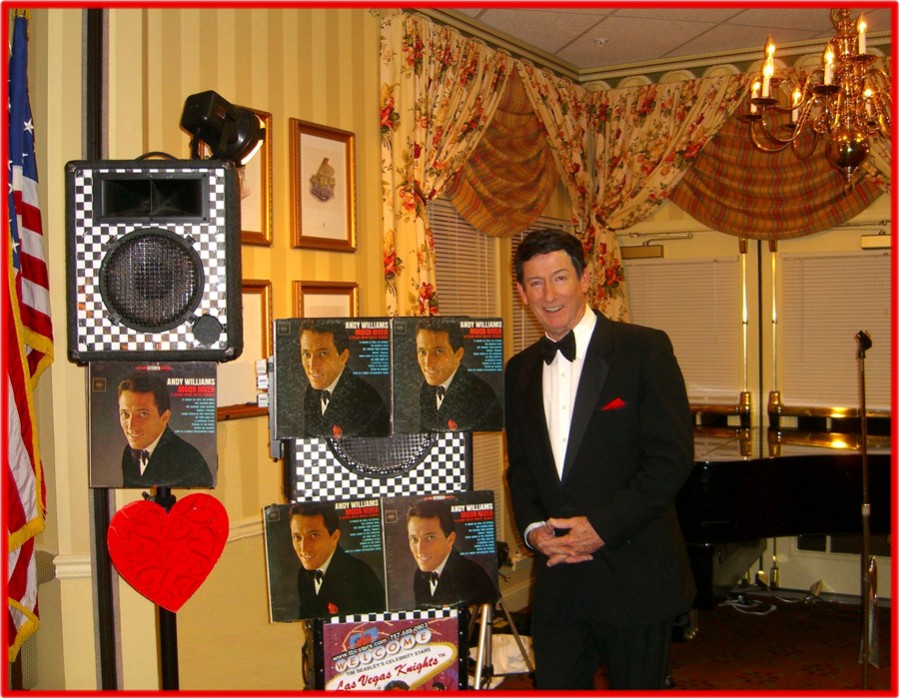 For national - international performances flying in for the engagement, for an intimate party of up to 50 guests, (as pictured above) we will bring a portable professional sound system that is checked as baggage for quick and easily mobility as for "surprise parties " in a walk-in and perform sense, and works great for those.
For those national fly-in performances with a larger audience, such as 50 - 350 - 700 - 1200+ guests as in a hotel-convention center ballroom or banquet hall, we suggest the Audio / Video dept at hotels and resorts venues provide the sound set-up for the show, or have a sound re-enforcement sub contractor or DJ company do this, with the types of equipment outlined.
Plus, with Tim's "The Martini Men" ( http://www.themartinimen.com ) variety tributes, you can have Andy sharing the marquee with "his" old pals "Frank Sinatra, Dean Martin, Bobby Darin, Paul Anka or Tony Bennett"..lots of possibilities and of course your choice for a great show!


Clients and venues have included many wonderful resorts, hospitality venues, exclusive 55+ golfing communities and country clubs nationally.
Weddings and Anniversaries are extra romantic when "Andy" sings the songs of love!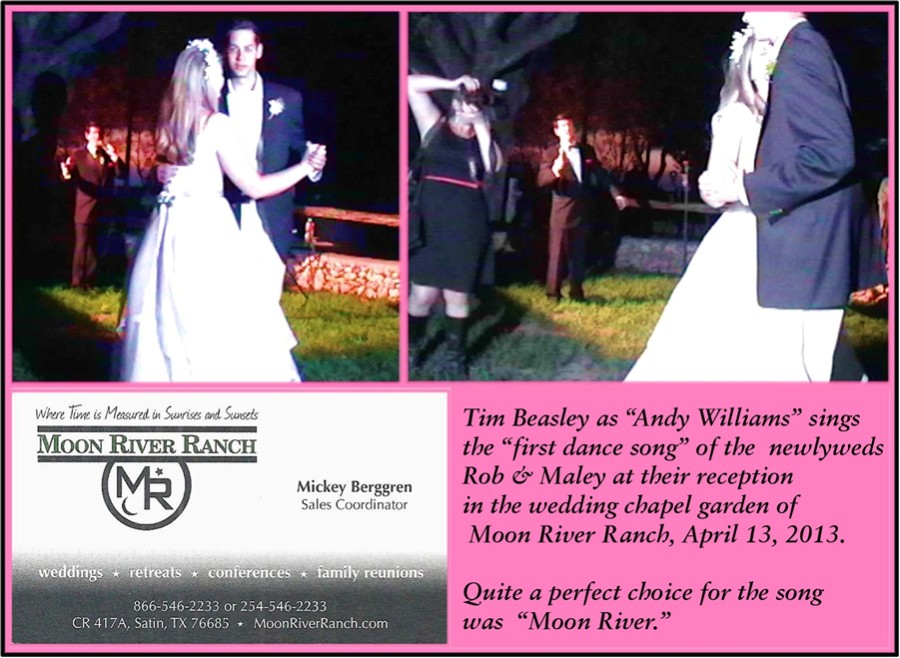 The above photos are "still frames" taken from the video clip of the performance for this wedding reception you can see right here by clicking on the highlighted link:
http://www.youtube.com/watch?v=SfuPjkUvWd0&feature=youtu.be

It happened that Andy Williams was a family friend of the bride and mother of the bride from Houston, TX, and was orginally going to perform at the reception himself, but he had to cancel. The entire theme was "Moon River" and the wedding venue was an exclusive "botique resort" south of Dallas, TX, known and dba "Moon River Ranch!" The family found Tim, to perform as "Andy" which delighted the bride and her Mother.
For the reception, Tim also brought 3 of Andy's grand "Moon River" albums, which he autographed "Best Wishes to Maley & Rob, from Tim Beasley as 'Andy Williams, 4/13/13" in gold marker and gave as gifts to the newlyweds, the mother of the bride, and also to the great wedding venue, the Moon River Ranch, which they now proudly display in their lobby!
"Andy Williams" video collection of several unique tribute shows in a variety of venues:
http://www.youtube.com/playlist?list=PLfgTVtGCxkTklfex_JCjna8bODLG_VE0L&feature=view_all


( Publicity news photo Aug 5, 1966 ) ( An 8 page program from the 70's in our Andy Williams collection )
***Historic Caesars Palace Grand opening, August 5, 1966 archives video:
http://www.youtube.com/watch?v=uRJsi3bUQ3I
Great Christmas Holidays 2021 and NYE 2022 show offerings..it's a classy holidays favorite! Best dates are open right now, and it's never too early to book for Christmas or any holidays!!!

Over the years, Tim has performed for many glamorous New Years Eve parties, coast to coast. Like the promo above, any year is a great year for an "Andy Williams Moon River Christmas!!!"

The Silver Millennium Y2K 2000 NYE, Ocean City Convention Center, Ocean City, MD
The Greenbrier Country Club, Chesapeake, VA
The Four Seasons, Washington, DC
The Outer Banks Music Showcase, Kitty Hawk, NC
City of Orchard Beach, MD
The 37 Club, Fort Magruder Inn, Williamsburg, VA
The Jefferson Hotel, Richmond, VA
National Coil Company NYE Columbus, OH

Trilogy at the Vineyards' Club Los Meganos, Brentwood, CA
Trilogy at Lake Frederick's Shenanfoah Lodge, Front Royal, VA

...hundreds of birthdays, anniversaries and other glamorous celebrations over the past 34 years!!!

There is a nice choice of pre-Christmas 2020 dates and NYE 2021 open!)
The unique Christmas season tribute show, "Christmas With Andy" TM aka "Andy Williams' Moon River Christmas" TM is a great holidays show featuring those classic holidays songs of Andy like

"It's The Most Wonderful Time Of The Year"
"Happy Holidays"
"White Christmas"
"Have Yourself A Merry Little Christmas"
"Oh Come All Yea Faithful"
"It's Beginning To Look A Lot Like Christmas"
"Silver Bells"
"Winter Wonderland"
"Silent Night"
"The Christmas Song"
"Let It Snow, Let It Snow"
"Jingle Bells"
"Sleigh Ride"
..many more!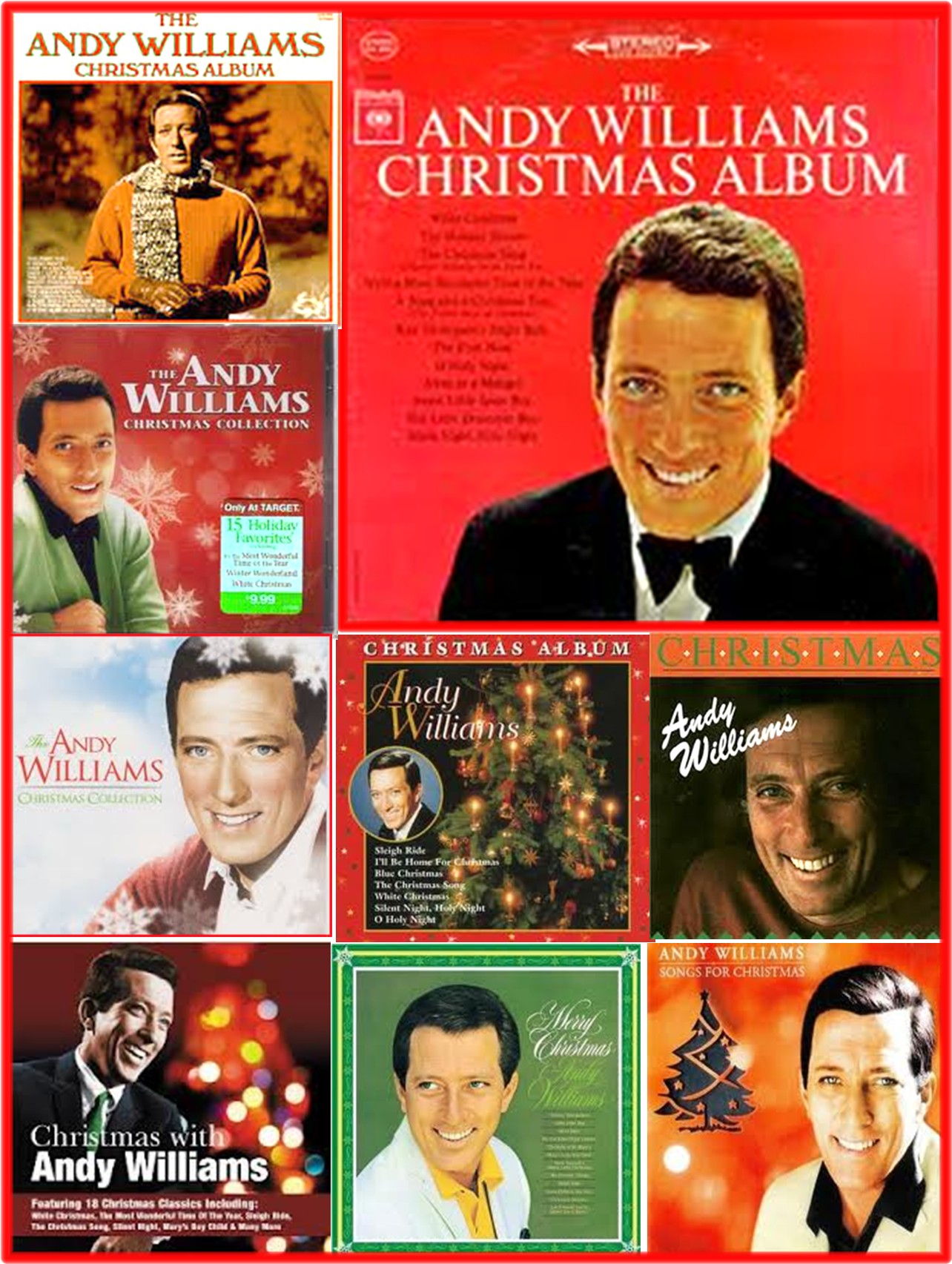 Having sold millions of these Christmas and holidays favorite albums,
Andy Williams could easily be called "Mr. Christmas Music!"
As huge Andy Williams fans here at The Martini Men, we also have a grand collection of hundreds of Andy's many albums, even "Moon River" musical jewelry boxes, movie placards from his only feature role movie, the 60's film romantic comedy "I'd Rather Be Rich" also starring Sanda Dee and Robert Goulet, and other great collectibles including authentic items from his Moon River Theater. These make great gifts 'and door prizes when added to a performance for your Andy Williams fans. We also bring a part of our "Andy Williams" collection for viewing before and after the show!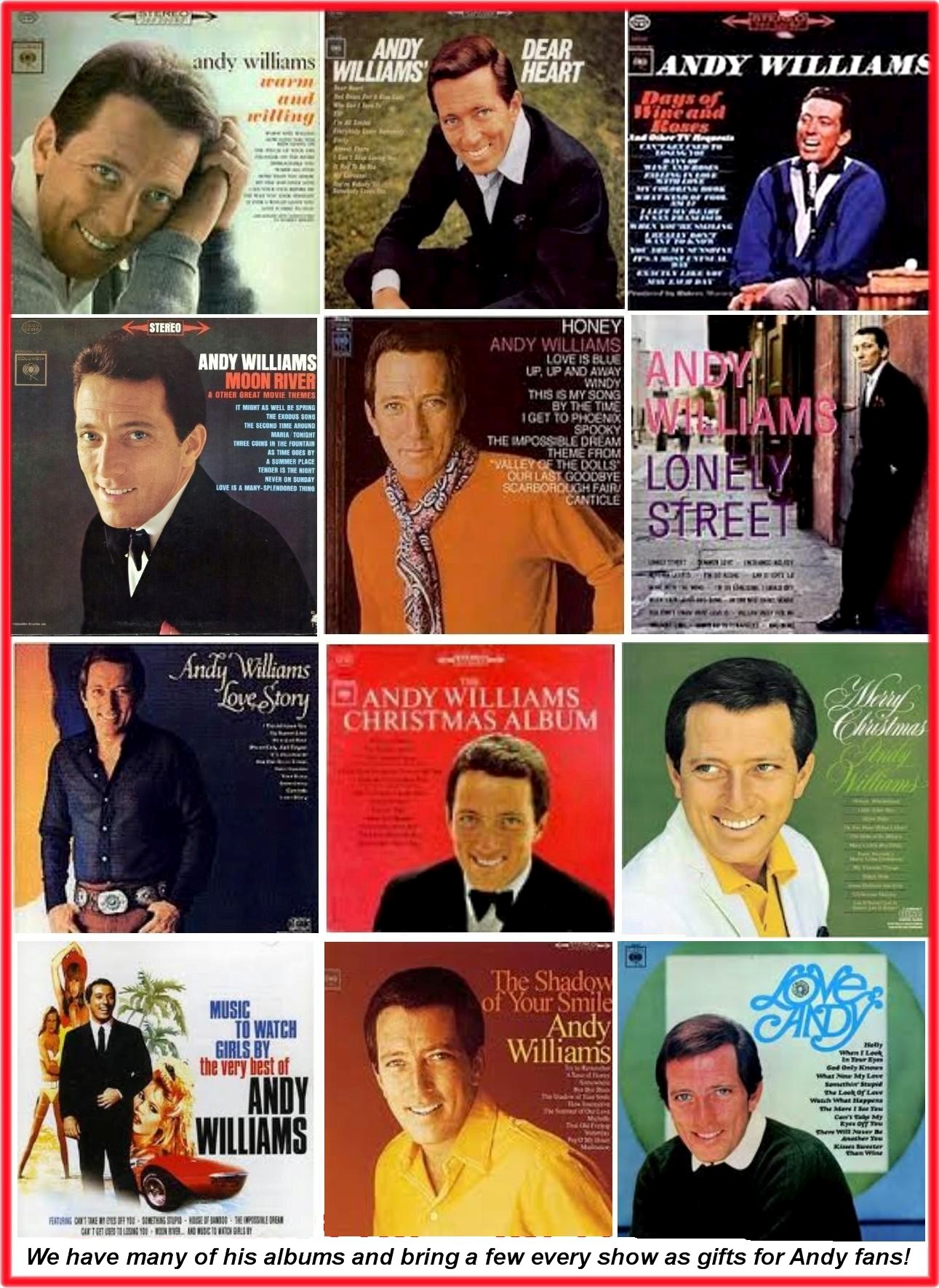 Bookings nationally - internationally and local, too!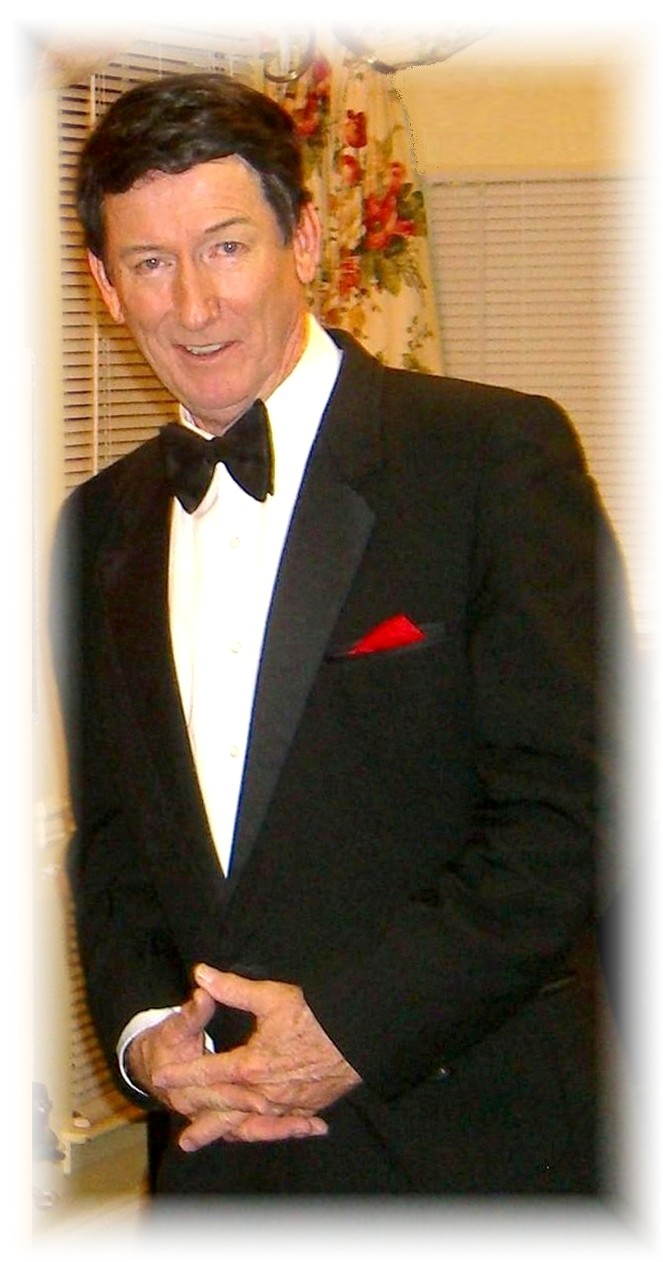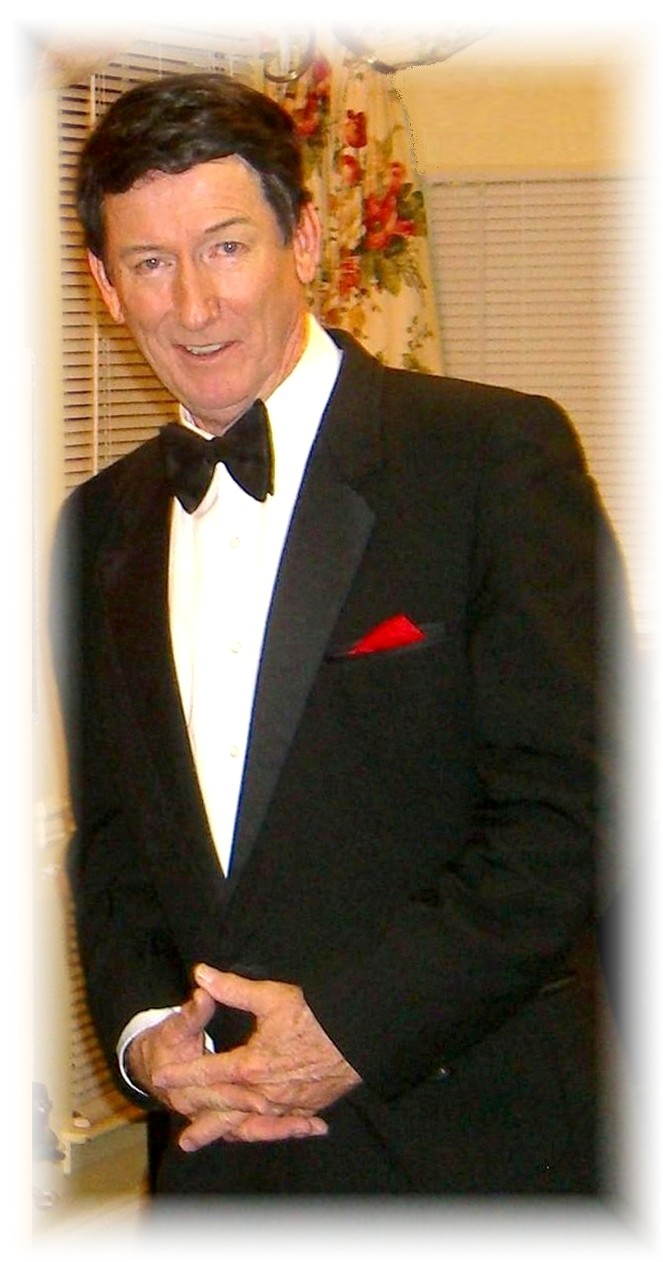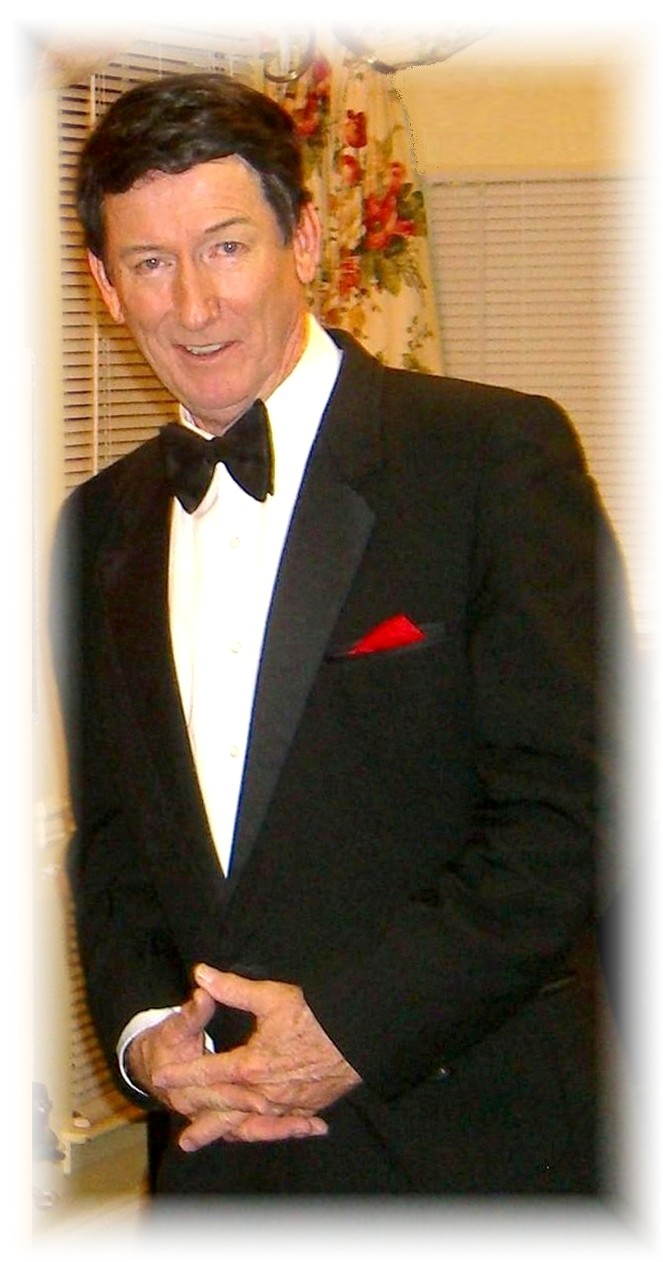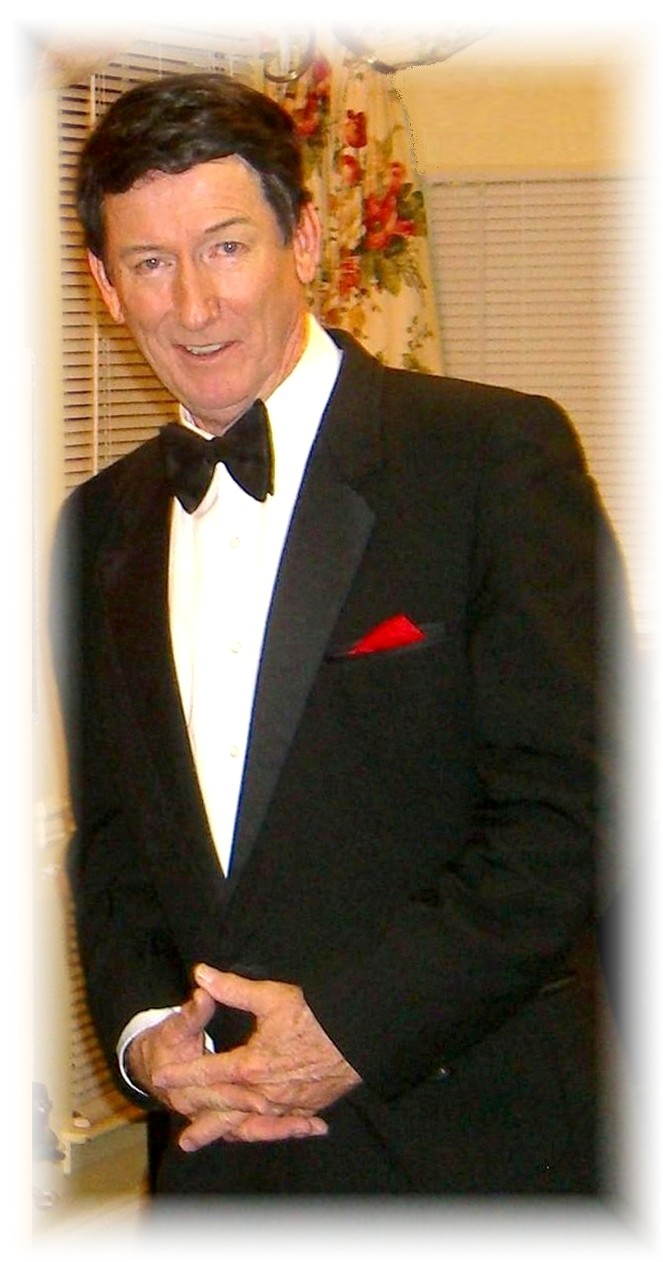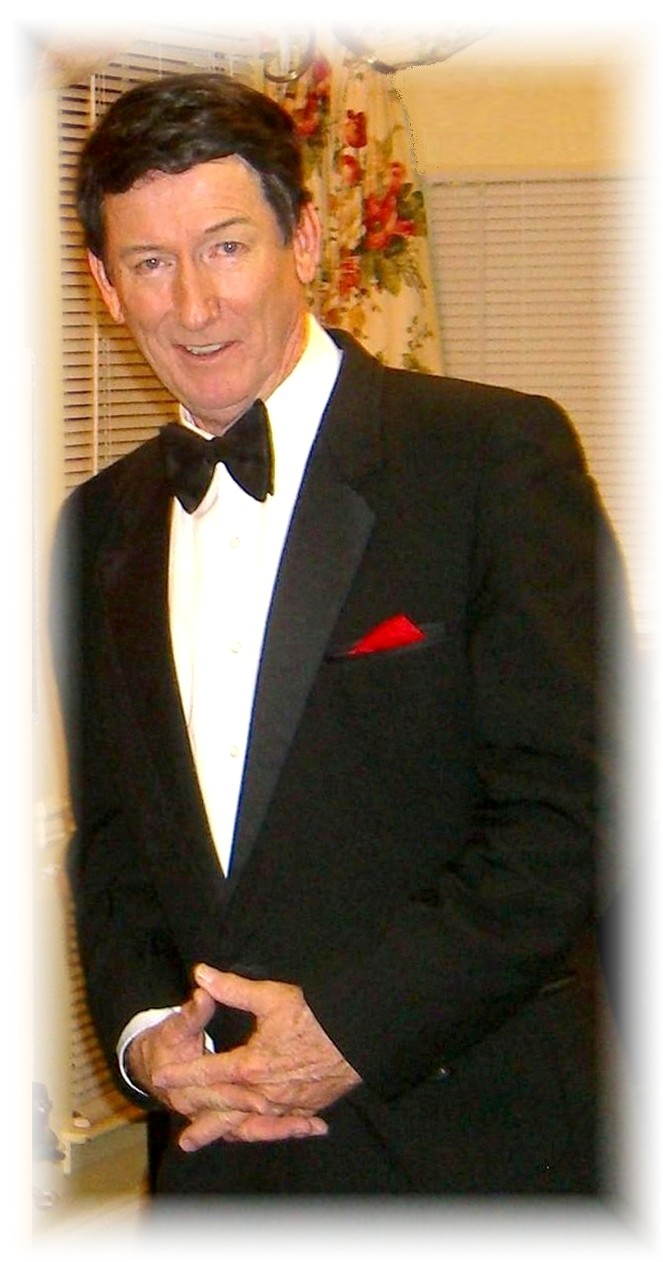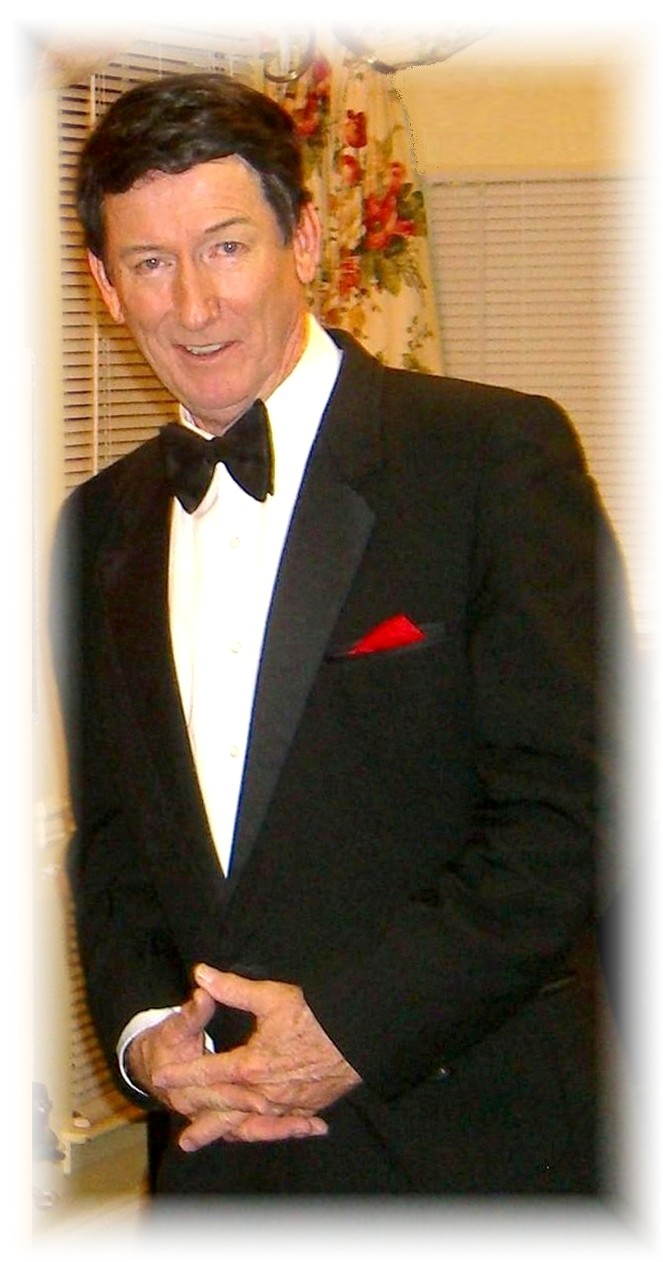 EMAIL timobeasleystar@aol.com
PHONE / TEXT 757-589-0903
Please call, we'd enjoy speaking with you!!!
Licensed and insured since 1986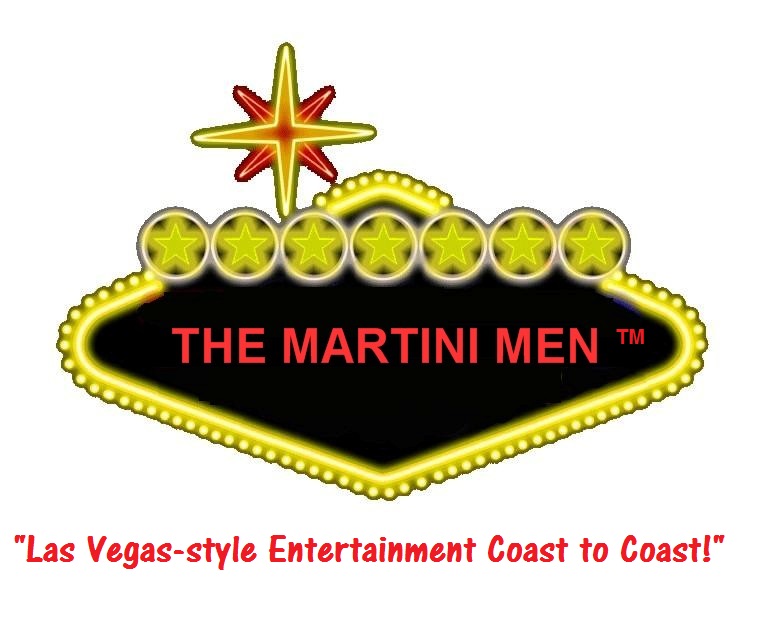 Andy Williams Tribute Show, Impersonator, Las Vegas, Branson, Palm Springs, Hollywood, La Quinta, Coachella Valley, Miami, Chicago, Dallas, Atlanta, New York City, Los Angeles, Hollywood, parties, receptions, weddings, anniversaries, entertainment